Over the weekend we took at trip to visit Jason's parents (and my lovely in-laws) who live in Milan, IL an area known to many as The Quad Cities. Now, let us not argue over exactly what cities are a part of this whole "Quad" group, because as I have learned since marrying into this section of the country, there are five cities and it's best if we don't ask why there are five and not just four. Regardless, if you happen to find yourself in the Rock Island, IL, Moline, IL Davenport, IA, Bettendorf, IA or East Moline, IL aka the Quad Cities, there's plenty to do to and see and plenty of great places to eat. So, here's Our Wandering Families 10 Must-Dos when visiting.

Top 10 Must-Dos in the Quad Cities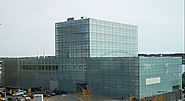 The Figge Art Museum in Davenport, Iowa. serves as the major art museum in the eastern Iowa and western Illinois region. The modern glass building on the banks of the Mississippi was designed by Stirling Prize-winning Modernist British architect David Chipperfield (The Figge was his first US commission) and has become a beautiful addition to the Davenport area. This is a great place to spend an afternoon and with rotating exhibits, educational classes, and community focused programs there is always something going on at The Figge. And if you needed more of a reason to visit, The Figge Art Museum is free through September 22nd, 2016!
2
The John Deere Pavilion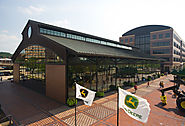 The John Deere Pavilion located in Moline, IL is a must-do for any family with kids who love to climb into big tractors, push buttons and pull levers. The Pavilion is always free and features monthly kids craft days, community events, as well as a recently added Kids Discovery Zone that puts the world of John Deere and farming into the hands of their littlest visitors. We have easily been to the John Deere Pavilion half a dozen times and our kids never tire of climbing in the giant Combine or testing out the machine simulators (and honestly, neither do their parents).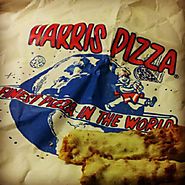 Harris Pizzais a Quad Cities staple. Started 50 years ago Harris Pizza is known as the original Quad Cities style pizza. There is something oh-so-yummy about their hand tossed pizza and sausage topping (both of which are family recipe secrets). There are several locations around The QC and, as pizza is its own major food group, there is sure to be a little something for everyone on the menu.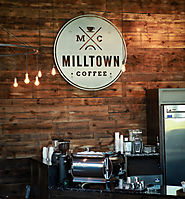 MIlltown Coffee is a new addition to the Quad Cities area having just opened its doors back in the fall of 2014, and I have to say, as a coffee lover, this is such a welcome addition to the area. The spacious, modern, clean feel of Milltown coffee is so inviting, and I love how cool they were with our kids. It's hard to find a coffee shop that doesn't give a big deep sigh when I walk in with my three boys, so having the baristas at Milltown actually talk to my kids and make sure we had everything we needed was a nice change. And the coffee is fantastic! Definitely worth a swing by when you are out and about and in need of a morning or afternoon pick-me-up.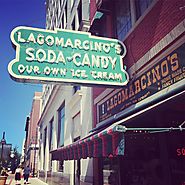 Lagomarcino's has a lot of sweet things going for it and situated just a few blocks from the John Deere Pavilion and The River House it's a perfect stop after some tractor play and lunch devouring. Lagomarcino's makes their own chocolates, but it is their soda shop that is the highlight for our family. It's situated in the back of their tiny little shop with mahogany booths and decor that harken back to a time long past. Our family has tried a little bit of everything when it comes to their ice cream, and I can safely say the Italian Sundae and the Carmel Crunch are not to be missed. Lagomarcino's is a definite must-do anytime of the year.
6
The River House Bar and Grill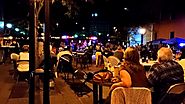 The River House Bar and Grill has become our family's go to place every time we visit the Quad Cities. Their menu has a little pub food for everyone, but more importantly, it has a great kids menu that allows all three of my picky eaters to find something they like. The fried pickles and the Pork Tenderloin Sandwich are staples at our table when we visit, and there are plenty of yummy adult drinks too! In the summer they have an extensive patio set-up, and you can enjoy free music on Friday and Saturday nights. The River House is right across the street from the John Deere Pavilion, which makes for a perfect outing for our family.
7
Schwiebert Riverfront Park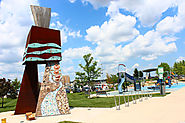 Schwiebert Riverfront Park is a beautiful addition to Rock Island, IL and highlights the grand Mississippi River. Featuring a park, a water feature, an observation shelter, an open-air stage and plenty of grounds to walk and bike, Schwiebert Riverfront Park makes for a lovely day of outdoor play. Pack a picnic and enjoy letting the kids run around. Between the playground and the water feature, Schwiebert will wear the kids out and make bedtime a breeze.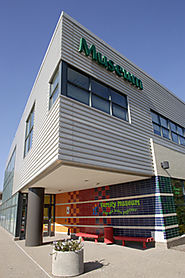 The Family Museum in Bettendorf, IA is all about play with a large dash of learning thrown in. It's a great time, and an excellent way to beat the Midwest heat or Midwest winter. While the museum does say their primary audience is 8 and under, I'd wager that even the 9 or 10-year-old would have a good time here. Their hands on exhibits are inspired by the people of the Quad Cities, so you get a little history lesson while you play!
9
Quad Cities River Bandits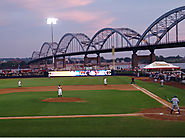 The Quad Cities River Bandits is the QC's hometown minor league team. With bleacher seats starting at just $7 this is a great way to enjoy a ballgame with the whole family and not break the bank.
10
Black Hawk State Historic Site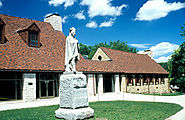 With numerous hiking and walking trails Black Hawk State Historic Site offers you plenty of opportunities to get outside and enjoy nature, but it's their Watch Tower Lodge that is the highlight of the visit. Made of native limestone and large timbers the building looks and feels solid. Inside you'll find a large banquet hall with two massive fireplaces and the John Hauberg Museum showcasing the history of Native Americans in the area. The museum is free, and it was an easy stroll through with the kids. I highly recommend visiting Black Hawk State Park in the fall when all the leaves offer a burst of color all around.
Have you visited the Quad Cities? Got something you'd add to this list? Keep the conversation going, leave a comment and let us know what else is out there!