October is National Pizza Month, and Pizza just happens to be our culinary field of expertise. In our three years on the road, we've eaten at way more pizza joints than we can count, so we thought we'd put together a list of the ones that really stood out. So, without further ado, and in no particular order, here are our top pizzas in the nation.
Pensacola Beach, Florida: Papa's Pizza
Is it just me, or is New York-style pizza usually better outside of the Big Apple? Those foldable slices just feel more special when you find someone who does it right. Papa's Pizza on the Boardwalk in Pensacola Beach is one of those places. And Papa's has the added benefit of eating al fresco in the Florida sun. Most people go for the thin crust, but our favorite was the thicker Sicilian-style. They also have two locations in Coastal Alabama.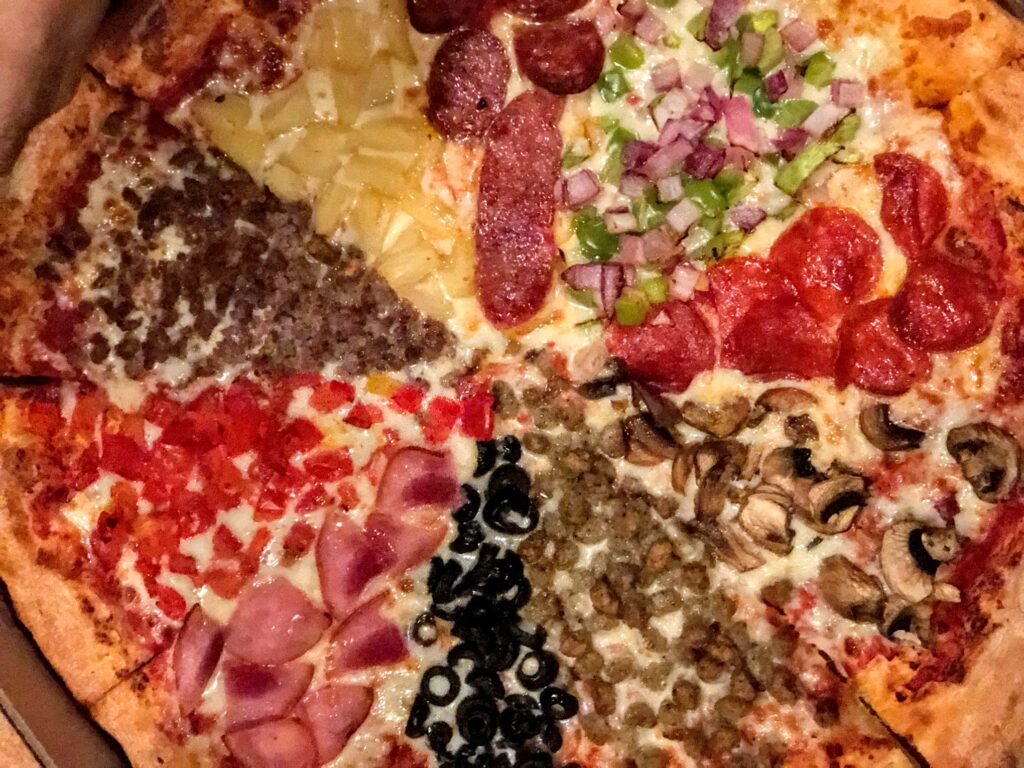 Hideaway is a small chain of pizza parlors mostly in Oklahoma City, but they also have Tulsa and Arkansas locations. They have a slew of topping options, but the best thing about Hideaway is that you don't have to choose. You can get the "Hideaway Special" which is one pizza made from slices of all sorts of pizzas, including bacon, hamburger, pepperoni, sausage, black olives, mushrooms, red onions & green Bell peppers, Roma tomato, polish sausage, and pineapple.
San Antonio, Texas: Big Lou's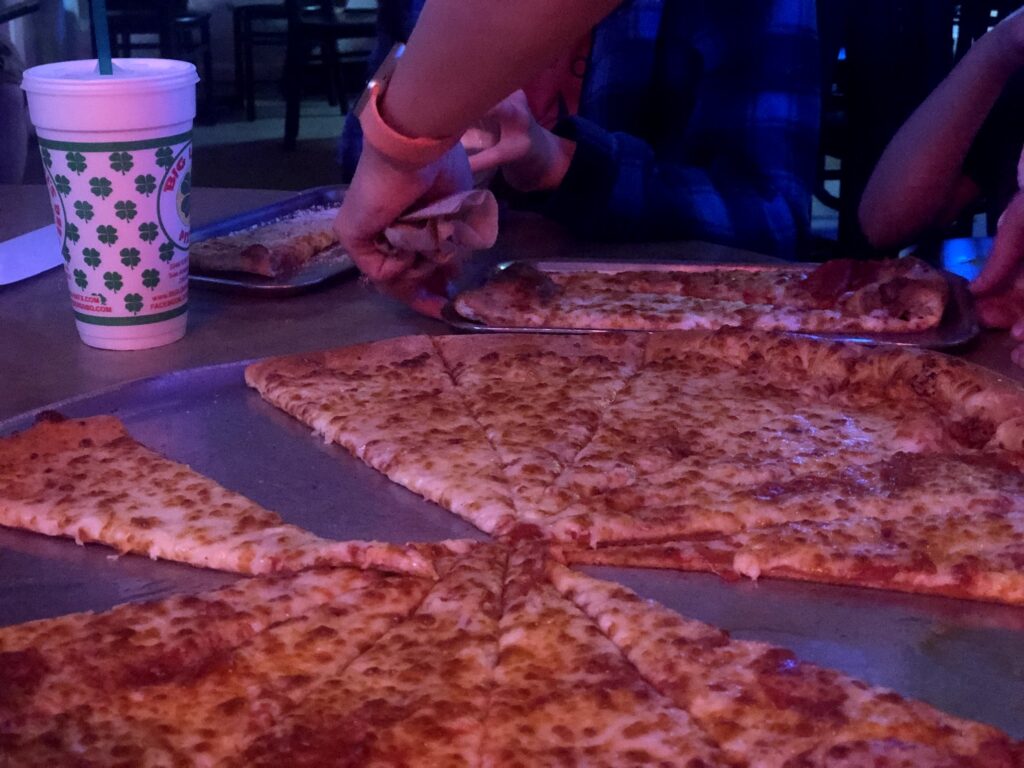 Big Lou's is a San Antonio hotspot, mostly due to their pizzas that are literally the size of your table. That's right, up to 42″ across. Burly food runners carry them over their head through the restaurant whild dodging other customers. And it's not just a gimmick. The pizza tastes fantastic. Get there early, and plan to wait. It's a busy place and there are no reservations.
The Minneapolis area is really making a name for itself in pizza options. Instead of having a certain style the town is known for, the Twin Cities offer dozens of great craft pizza options to surprise and delight. Our favorite was Parkway Pizza, which has three Minneapolis locations. It was voted best pizza in town for a good reason. Their pies are perfect. Just the right thickness and flavor in the crust, plentiful toppings under a thick bed of cheese, and artisan ingredients, like house-made sausage.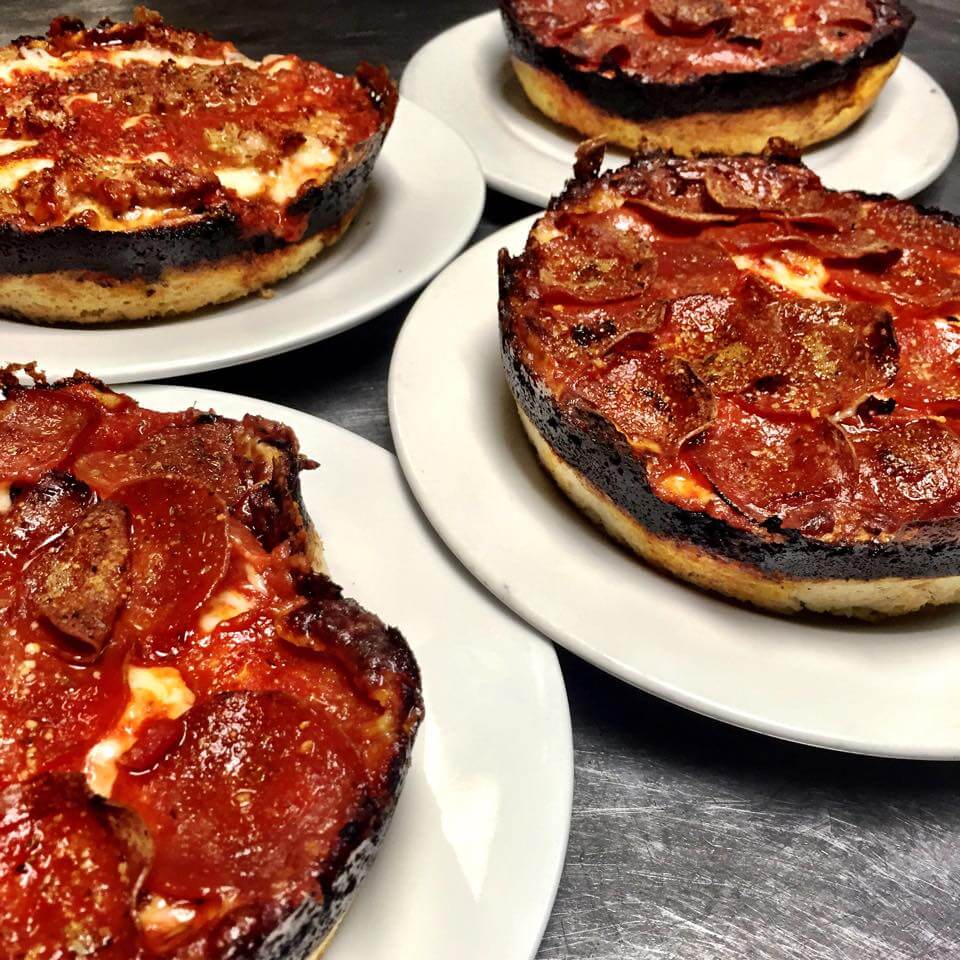 We lived in Chicago for 15 years, and we've had every pizza under the sun in the Windy City. You've surely heard of Chicago's famous deep-dish pizza, but you might not know that most Chicagoans don't really eat that stuff too often. Mainly when friends and family are in town (except for our friend Dina, who I think eats it for 3 meals a day). Chicago is full of all kinds of pizzas, but the most common is probably crispy thin crust cut into squares. But if you must go for the vat of sauce and cheese that the Windy City is known for, Lou Malnati's is your best bet. For a good compromise, we really love Pequod's Pizza. It's a deep-dish pizza, but not quite the traditional Chicago style. The crust has this amazing caramelization on the outside that we've never had anywhere else.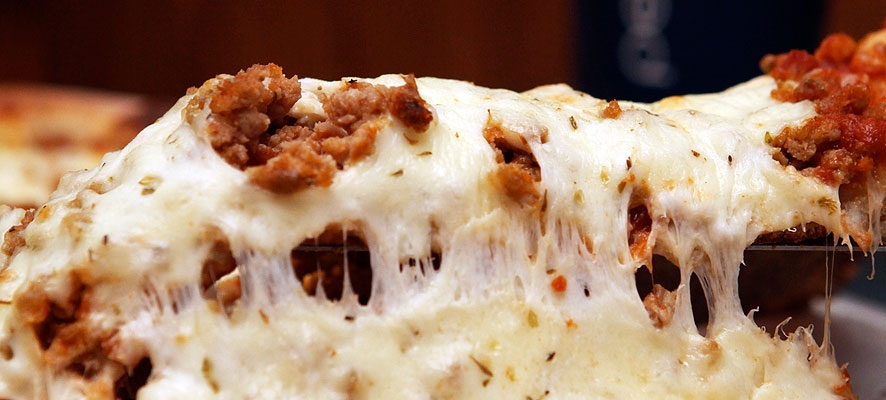 Look, you probably don't have a reason to visit Rock Island (which is a part of an area known as the "Quad Cities" that straddles the Iowa/Illinois border), but you should consider it just for Harris Pizza. Harris is the original "Quad Cities-Style" pizza. Fifty years ago, the concept of pizza was so new to the area that Leonard and Mary Harris had to give it away to get people to try it. Today Harris Pizza is a household name in the Quad Cities. Let me tell you why it's the best pizza in the country. First, the crust. The hallmark of QC-style pizza is a thin marvel of a dough that is flavored with malt. When baked, it builds big airy bubbles and a flexible, chewy texture. The toppings are carefully selected and plentiful. They're covered with a layer of cheese that holds it all together, and then the whole thing is cut into strips with scissors instead of squares or triangles. People come from all over to get this incredible pizza. The star at Harris is the ground sausage, which is house-made.
Fun House Pizza is old school. This is the place your grandparents went to. One of those places with a counter you order from and get a number that's called out when your pie is done. One with long, communal tables. The pizza is your typical midwestern slice, heavy on toppings, but there are a few twist options, like oysters and shrimp. The original Raytown location has unfortunately closed, but two other KC suburban locations still offer family-oriented fun and food.
La Crosse, Wisconsin: Big Al's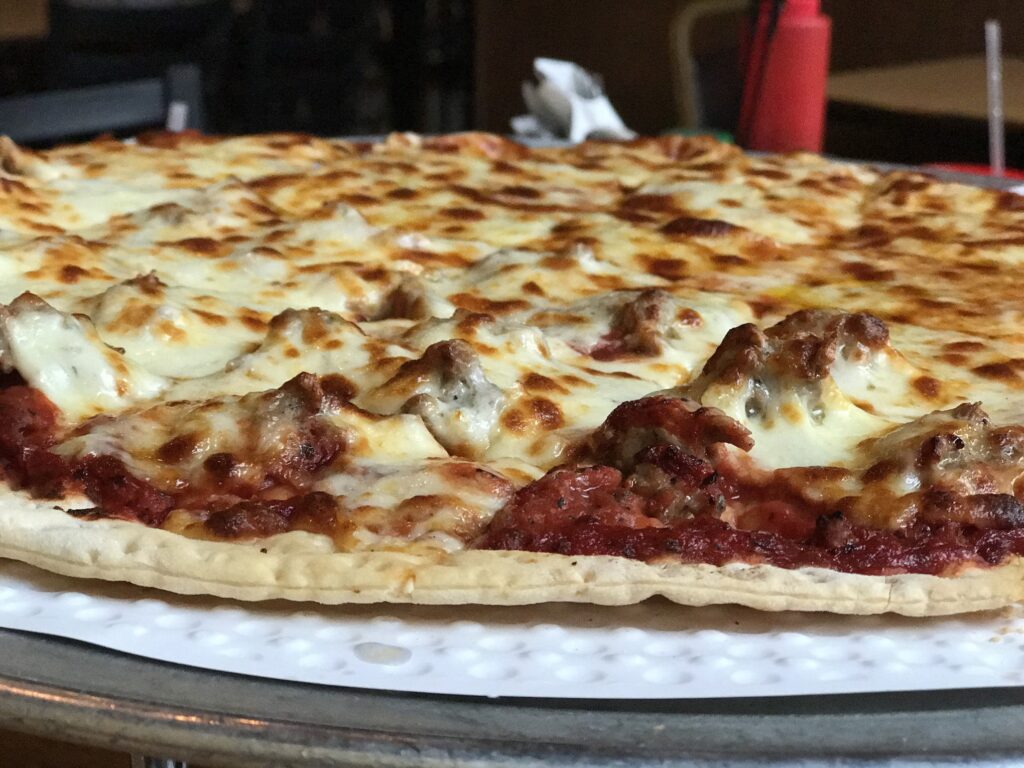 Big Al's is the epitome of Midwestern Pizza (which is really the best regional pizza out there). It's thin crust with plentiful toppings, and a streamlined menu without a whole lot of frills. The pizza tastes great, but the location is pretty good, too: right downtown La Crosse, on a historic street near the river. And it's Wisconsin, so your pizza always goes with beer and cheese curds.
Grand Forks, North Dakota: Rhombus Guys
For innovative topping combos, we've never been anyplace better than Rhombus Guys' Pizza in Fargo and Grand Forks, North Dakota. Yes, North Dakota. Consider creations such as the "Blue Heaven" (bleu cheese cream sauce, sliced new york strip steak, bacon, diced tomato, red peppers, bleu cheese, cheddar, and mozzarella), the "Tater-Tot" (cream of chicken sauce, beef, tater-tots, corn, jalapenos, mozzarella and cheddar) or the meatless "Gorgonzola Pear" (oil base, pears, caramelized onion, garlic, gorgonzola, fontina, chopped walnuts and mozzarella with minced thyme, arugula and balsamic reduction). This place is the real deal, and you can pair your pizzas with local brews made with North Dakota barley.
Wall, South Dakota: Badlands Saloon & Grille
Wall is the very small gateway community for Badlands National Park. There aren't a lot of restaurants there in the first place, so it was great to find an excellent pizza place. I can't exactly put my finger on what made the thin crust pizza at Badlands Saloon & Grille so good, but it's the only place I ever remember ordering an additional Pizza after we were finished and sitting another hour for more goodness.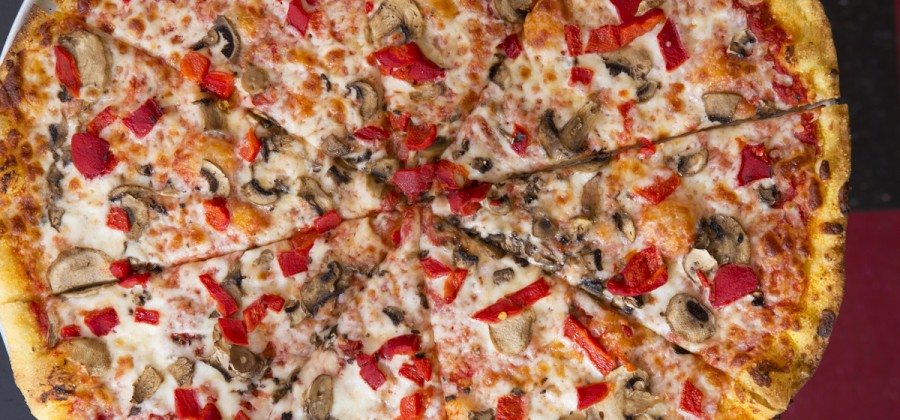 If we're honest, the Southwest has quite the blind spot for pizza production. But every now and then, a restaurant gets it right. Back Road Pizza in Santa Fe does just that. Part of what makes them tick is not trying to be a Midwestern or coastal pizza joint. They locally source as many ingredients as possible, and handcraft as much as possible in house, including roasted meats. The flour crust rolled in cornmeal for a nice texture, and then coat the edges with olive oil and sprinkle with sesame seeds. It's been voted the best pizza in Santa Fe (which is quite the foodie town) 8 years running.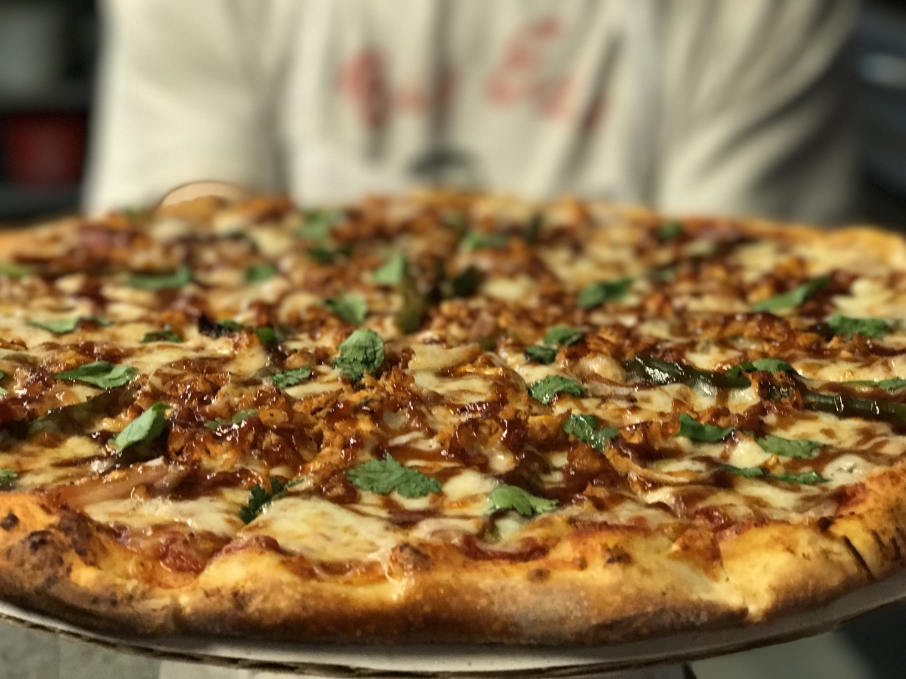 Big Ed's Pizza has been in continuous operation since opening at its current location by "Big Ed" Neusel and his wife in 1970. The menu is simple: just pizza, soft drinks, and beer. The pizzas are basic pick-your-own toppings, and the key to their success is quality ingredients. Ed passed away years ago, but they still make both the dough and sauce fresh in the restaurant using his recipes. They use a proprietary blend of mozzarella cheese made to Big Ed's specifications, which is shipped from Wisconsin and shredded daily. You can watch them make the pizza by hand and slide it in the stone floor gas ovens to bake.