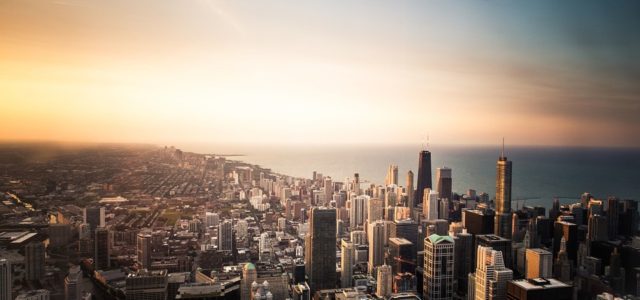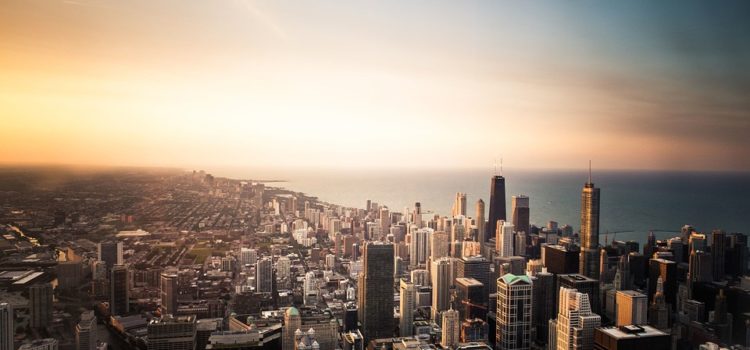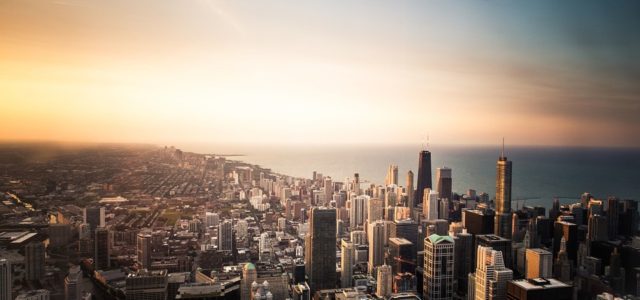 We're native Chicagoans, and while we get ready to move into our converted school bus, we've learned a lot about where to go if you want to park an RV near the Windy City. You don't have a whole lot of options if your goal is to spend a lot of time in downtown Chicago proper, but we've gathered up some tips and tricks so you can figure out options for visiting America's third coast.
Camping in the Chicago City Limits
To get this one out of the way at the start, up until recently it was nearly impossible to camp in the city limits, however, the recent addition of campgrounds at various Forest Preserves of Cook County camping "close" to downtown just got a little easier. The campgrounds are well-maintained and offer electric and water. We bounced betweenSullivan, Reinberg and Bull Frog Lake last fall and there are several photos on our Instagram feed chronicling our time there.  Be advised though, they book fast in the summer, and they aren't cheap (a weekend night will cost you $50). We recommend you book in advance during peak season.
Also, a quick overnight Boondock is not an option in Chicago since Wal-Marts (and anyone else) don't allow overnight parking.
If you want to be in the heart of downtown, your one real option is the McCormick Place Marshalling Yard. McCormick Place is the largest convention center in North America, and the Marshalling Yard is essentially where all of the semi trucks park. It's a giant industrial parking lot with zero amenities, but you can stay there for $35 a night, and you can reserve online. You should definitely make reservations. A major convention could be at any time of the year, and there are Bears games and large concert events to consider. It's right near Soldier Field and the Museum Campus, and just south of the "Loop" (downtown Chicago).
Outside of the Marshalling yard, the only real possibility is stealth camping in a Class B, which we don't really advise. There are too many restrictions and conflicting parking ordinances. Which leads us to:
Getting Around Chicago
It ain't easy, but if you are comfortable with your rig, it's also not as hard as you might imagine. It's no Manhattan. The streets are wide, and there are zero hills. Chicago is fed by several expressways that all converge near downtown, and they are notorious for massive traffic jams. Avoid them during rush hour (7am-9am, and 4pm-6pm) and you'll have a much better chance at cruising through. Lake Shore Drive—which traverses Chicago's beautiful lakefront—is probably best to be avoided. There are low overpasses at almost every exit off Lake Shore, and, though RVs are technically legal, odd vehicle restrictions could be interpreted in a way that lands you with a ticket if your rig is longer than 22′ or over 8000 lbs (there are both city and state laws at play). Trucks are flat out not allowed on Lake Shore, so keep your fifth wheel or travel trailer tow vehicle away as well. The only exception is the small section of Lake Shore that gets you to McCormick place from I-55.
In order to park an RV on a city street, it must be under 22′ in length, unless you have a special permit. You cannot park them on "business streets", which are the major thoroughfares. In addition to not being allowed on Lake Shore Drive, Pickup trucks cannot park on most neighborhood streets.
Public transit in Chicago is awesome, and it's really your best bet to get around. All of the "L" train lines converge in the Loop, just like the interstates. You can park at many of the outermost stations for $5 for 12 hours. Metra commuter trains run to the suburbs, and beyond. They are a bit pricier, but there are some that are very close to campgrounds. Once in the city, Divvy bikes are a great way to get from place to place. You pay a flat fee for the day (currently $9.95), and you can grab a bike from a station anytime you want. You just have to drop it off at the next station within a half-hour. There are hundreds of stations, and you can use an app to find out if there are bikes available.
Camping in the Suburbs
Out in the suburbs, there are a few campground opportunities. State Parks are your best (and closest) bet, and they are all an hour or more outside of downtown. If you are active military, a veteran, or a DoD civilian, there is a campground at the Great Lakes Naval Training Center, which has boating and other activities. It's not too far from Six Flags Great America, and has a Metra train stop that will get you direct into the city right on the base. Once you get to the far, far suburbs, commercial campgrounds start popping up. There's a few around Joliet, IL, including the Hollywood Casino RV Resort. This is not free casino camping, it's a full hook-up RV resort. At about $35 a night, it's about the same cost as the state parks, and breakfast at the attached hotel is included. There are also many campgrounds as you approach Rockford on I-90, but we have found that most are a bit run down.
Our favorite place near Chicago is Starved Rock State Park. It's about an hour and a half drive into Chicago, but it's a destination on its own. There's been a lot of talk of even turning it into a National Park. 13 miles of trails, 18 canyons, and 14 waterfalls, cliffs and more overlook the Illinois river in this incredible natural treasure. Boat rides, wineries, antiquing, horseback riding, and plenty of historical sites are all available in the area.
Camping in Northwest Indiana and Michigan
Often overlooked, Northwest Indiana and Southwest Michigan are every bit as close as some of the outlying campgrounds in Illinois. The Indiana Dunes State Park and Indiana Dunes National Lakeshore are stunning. There are also many private campgrounds in this area. A Metra train to downtown Chicago runs all the way from South Bend, Indiana, making several stops near campgrounds along the way, and you can catch an Amtrak in New Buffalo, Michigan, which is in a beautiful area called Harbor Country—sort of Chicago's low-key version of the Hamptons. The Warren Dunes State Park is just to the north of this area, and it's full of some more amazing sand dunes, plenty of hiking, and 3 miles of beaches. Both Indiana Dunes and Warren Dunes are open year-round.
Camping in and around Chicago is a challenge, but it's a beautiful city full of incredible, unique things to do. From the world's greatest art museum to food, theater, sports, and beyond—it's well worth the challenge of parking your rig nearby and exploring. Have a tip about camping near Chicago? Leave it below!