By Abigail Epperson
In part one and two of the Wander Bus Woes, I recapped the repair that kept us hanging around California for an extra month. That repair over and done, it was time to make like a tree and get out of here. We had a lot of ground to make up, and we had a deadline, so with the kids tucked up safe and sound in Bussie we began the 1600-mile journey towards Kansas City. We knew it was going to be hard, we just never dreamt it was going to be dangerous.
A few hundred miles into the drive Jason realized something was wrong, but he didn't know what. Not wanting to worry me, he suggested we stop early for the night, about 60 miles from our planned destination. It was dark, growing cold and pretty late. We were tired, and while I really wanted to see us make our mile goal for the day, I also felt the need to stop. We spent the night in a rest area on the Arizona/New Mexico border and woke bright and early the next morning ready to put some more miles between us and California.
But miles were the last thing we were going to be dealing with that day.
Shortly after breakfast, Jason headed out to do his daily bus walk around. Within moments, he returned, looked at me and said "we've got a problem. Our tires are bald."
Speechless, I followed him outside to inspect the damage.
What I saw, was unlike anything I'd ever seen before. Our front tires were stripped to the bone. There was barely anything left. Our back tires were covered in the melted rubber of our front tires, and the tow dolly was blanketed in small rubber pieces.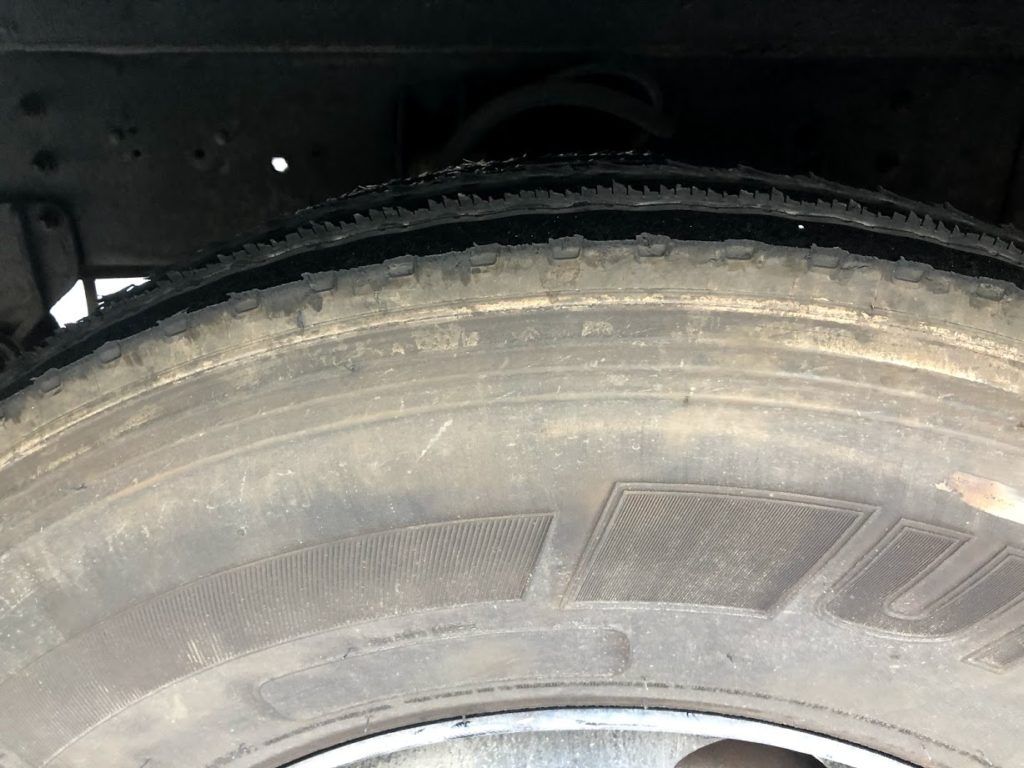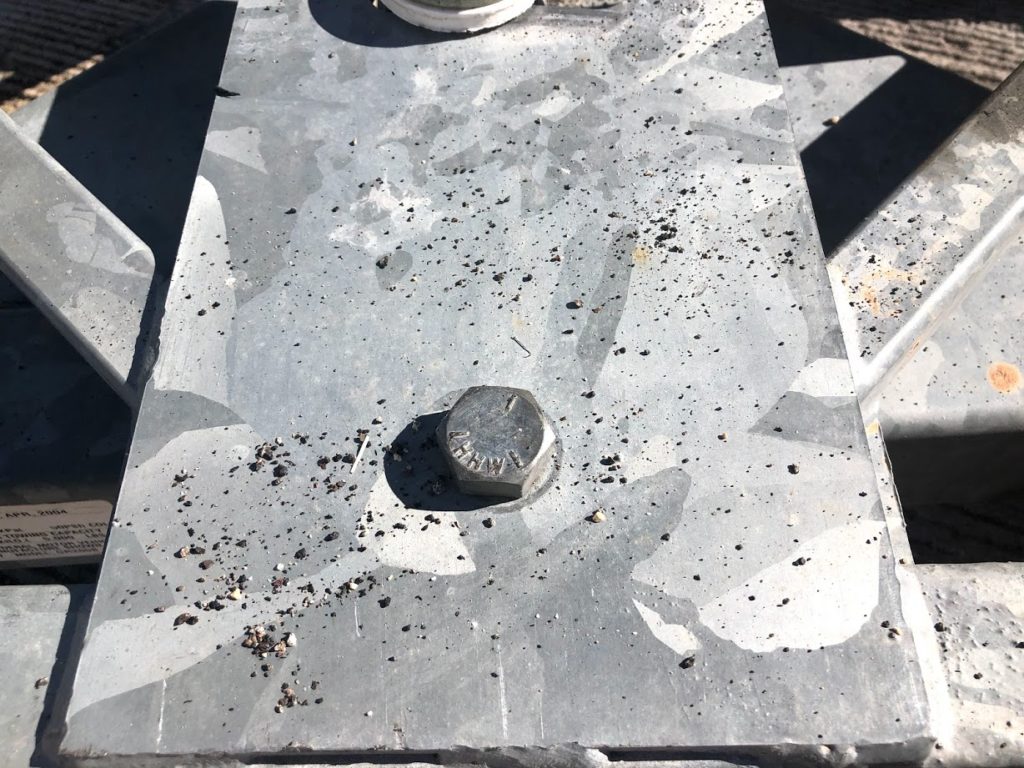 How did this happen? Why did this happen? We just left a repair shop where they'd put a brand new spindle on the front right wheel.
As we stood there looking at the tow dolly the realization of what could have happened had we not stopped early washed over me like an ice cold tsunami. I sat down on the ground, right next to the bus, and began to cry. I cried tears of relief and tears of anger. It was clear that the tie rod hadn't been adjusted to align the wheels after they installed the new spindle. It was clear that what we'd thought was a windy day was actually our tires shredding underneath us, and it was crystal clear that our family had been maybe a mile or two away from a two-tire blow-out on the highway. That last realization still makes my heart beat fast and my palms sweat.
But our family was safe, and we were alive. Those who shared the highway with us the night before were safe. All those "what ifs" were too much to think about, and I knew it wouldn't do us any good, so I stood up, focused in and got to work.
Back inside, Jason began looking for a mobile tire shop. We'd deal with the repair shop in Joshua Tree later, right now, we had to get back on the road. Thankfully we found one, and within a few hours, he was at the bus with two new, two very expensive, tires. I wish I could say the story ends here.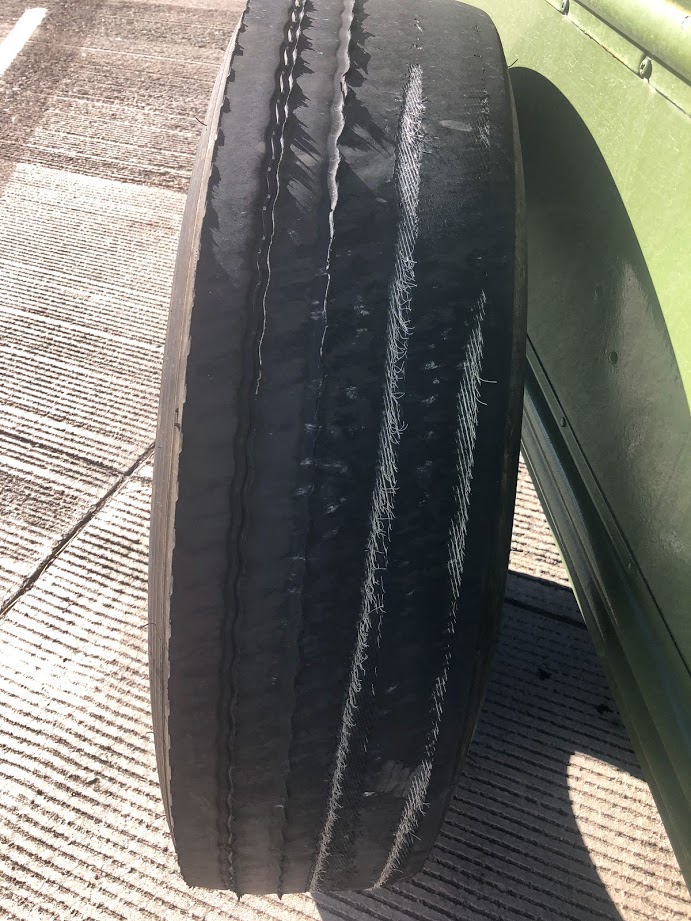 Immediately he noticed the tie rod was frozen and after several noble attempts at trying to get it to budge, we had to accept the fact that it was stuck solid and we needed to go to their shop 25 miles east into New Mexico. So, they put the new tires on and very slowly and cautiously we followed them to their shop where it took 5 more guys, three more hours, and an oxy/acetylene torch to finally get that blasted tie rod to move an inch. But even after moving it an inch, it still wasn't perfectly aligned. It was certainly better, but we needed a shop that did computerized alignments.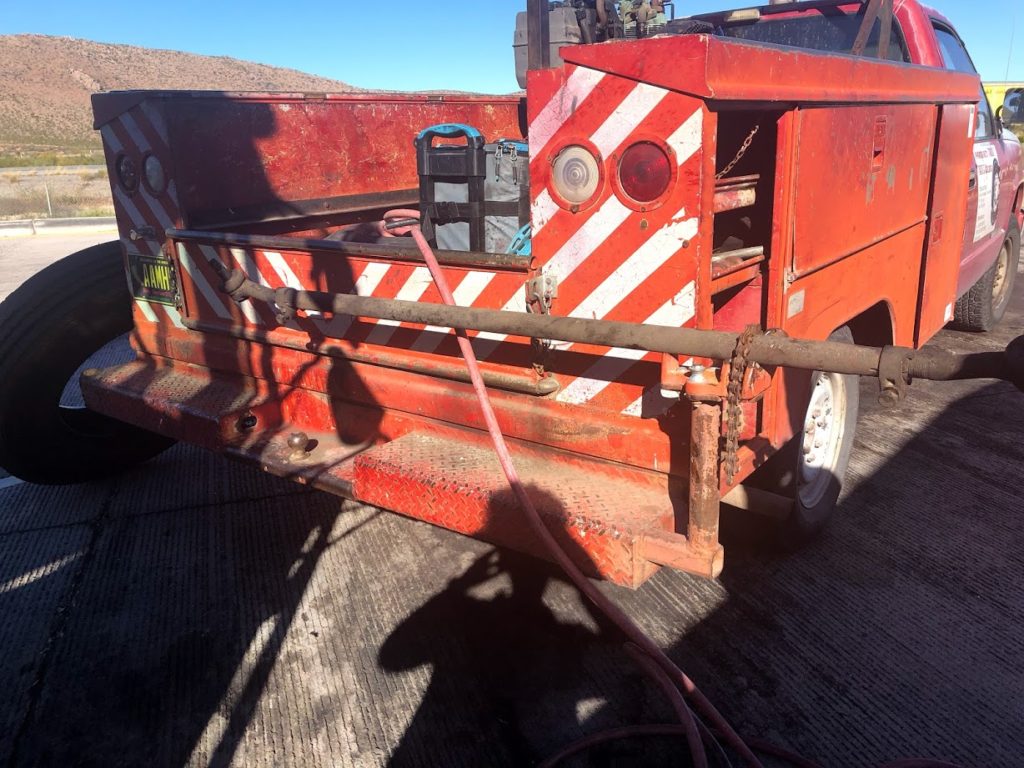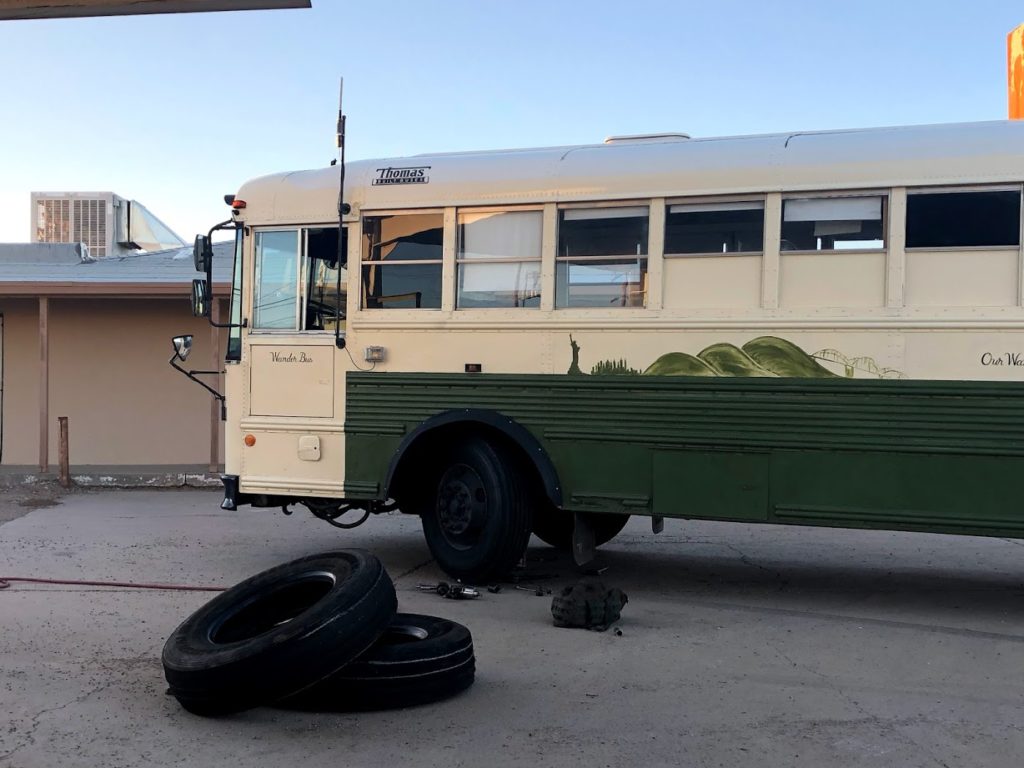 Tired, a little loopy and definitely lighter in the bank account, we drove 150 miles to the nearest major town for one more repair. I'd never been so glad to see a Wal-Mart parking lot in my life. All I wanted to do was get into bed, mindlessly watch a little Netflix and fall asleep.
The following morning we were at a repair shop that could do an alignment. Even after the work done the prior night we were still a whole inch off. That means when we left the shop in Joshua Tree we were two inches off. Jason and I were both speechless, and fuming mad, but we were also thankful.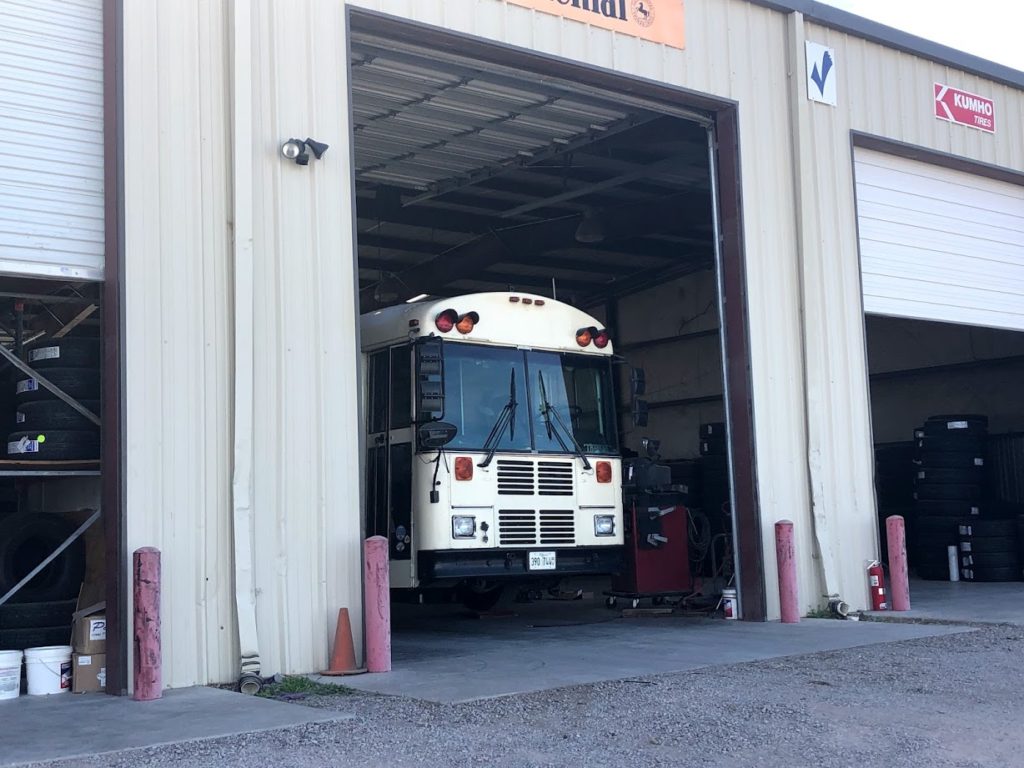 Every time we felt anger creeping in, any time we had to put more money into the situation, we just stopped and gave thanks that we could do those things. It is not lost on us just how much worse things could have been for our family.
The final repair made, and hopefully, the final payment made, we joyously regrouped back into the bus and set our sites on Kansas City. We had a long drive ahead of us still and we'd lost almost two days due to the repairs to correct the repairs. But we knew we could do it. We'd already been through so much, what was one little long drive going to do?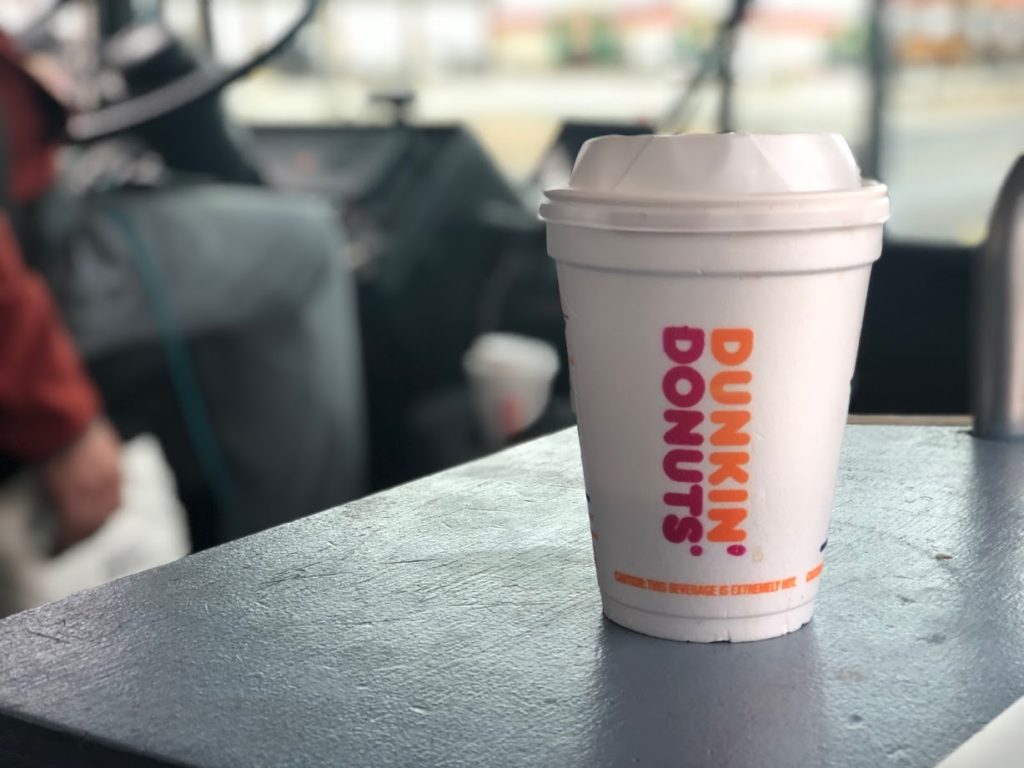 Well, it was going to have us go through some of the worst fog we'd ever seen, and a downpour of rain so intense that we could barely see past the front of the bus. At one point, the weather was so bad, we put the kids and me back in the van in hopes that I could make better time than Jason and get us to my parents. I arrived 5 minutes ahead of him. Did I mention we forgot to close the back roof hatch on the bus when the rain started? When Jason finally realized it, most of our bedding and the bedroom floor had a nice layer of water. There is nothing more deflating then arriving at your destination, thinking you made it, and then having the bus arrive and spend the next 45 minutes hauling in wet bedding and clothes, wiping down floors and generally trying to salvage your home in freezing temps. I had almost blocked this whole section of the trip from memory that's how burned out I was.
But, through all the repairs, the breakdowns, the rain, the fog, the stress, the illness, and the frustration, our kids were amazing. They never once complained. They took each step in stride and they worked together as a team and did what they could to help Mom and Dad through the situation. If anything, this life has taught us all the importance of teamwork and finding the light when it feels most dark.
Now, about that first repair shop…Once settled in Kansas City, we did reach out to the owner and after a little back and forth dialogue, he refunded us about 75% of his service fee. He wasn't happy about it, but he couldn't deny the careless mistake on their part so we give him props for doing the right thing.
Now, you may be wondering, why we had to get back to KC so fast? Why not just slow travel that, take some time, don't stress it. All very valid questions, and normally, that's exactly what we would have done, but you see I had a very important date that I couldn't miss with a very important person. I had tickets to see "The Nutcracker" at the Kansas City Ballet with Ethan, a tradition we've been enjoying for four years, and there was no way I was going to miss our special mom and son date. I mean, look how cute this kid is.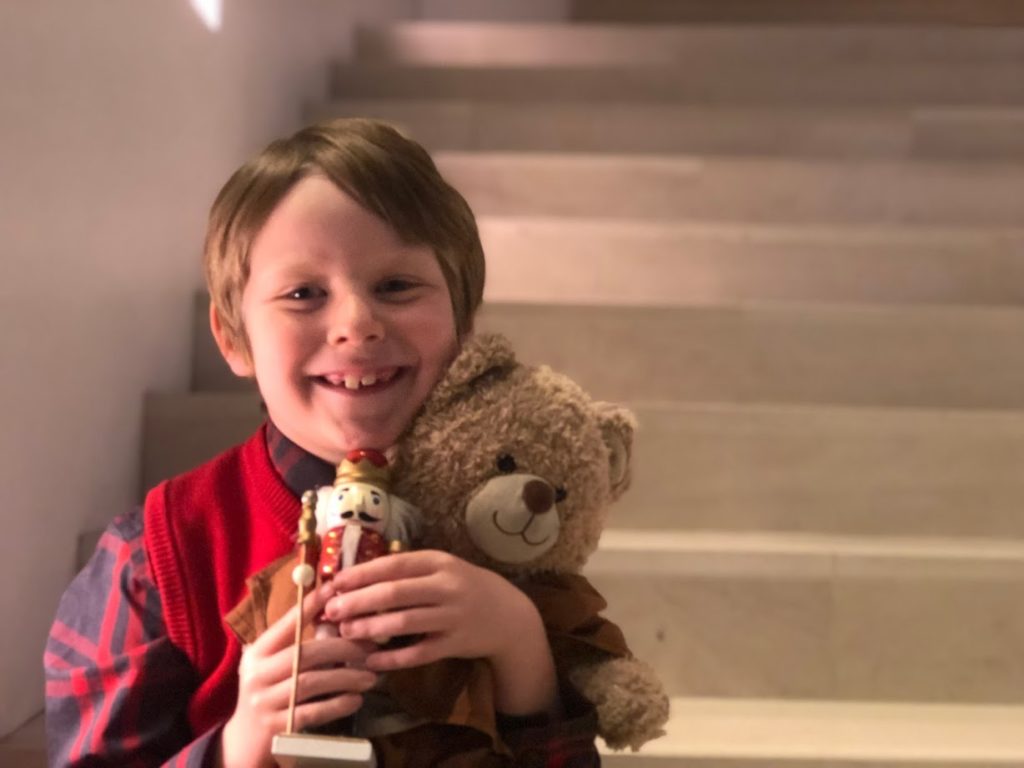 Arriving in time to attend "The Nutcracker" kicked off a truly magical holiday season for us, it also gave Wander Bus a much needed break as we generally stay with family and friends for an extended period of time. A period of time that is now coming to an end. As I write this we are just days away from moving back into the bus and starting another grand adventure, however, this year, we plan on embarking on a few less epic drives, and really taking in that slow travel life.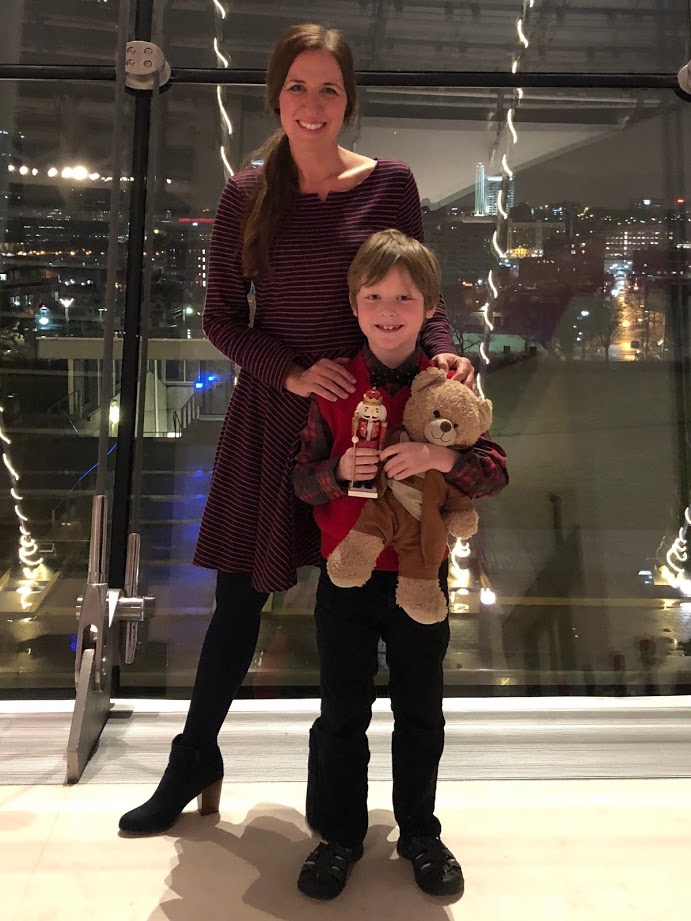 To hear more about our bus woes check out RV Miles podcast episodes 67 and 70