By Abigail Epperson
We didn't start off planning to spend a month+ in California, but sometimes life has other plans for you, and sometimes those plans come with a hefty repair bill and a priceless opportunity.
Prior to Bussie breaking down we had just enjoyed almost two weeks with my brother and his family in the LA suburbs. Halloween fun, Universal Studios, plenty of good food and most importantly, time with family. But the fun had to come to an end and we needed to start making our way east towards Kansas City and the holiday season with our midwestern family and friends. To break up the 1,600-mile drive, we had planned to give ourselves almost all of November, stopping in a few National Park sites along the way and taking advantage of our New Mexico State Pass before it expires in January — but as many of you know that isn't what happened.
122 miles into the journey, near Joshua Tree National Park, Wander Bus broke down. The right wheel bearing seemed to be in trouble, which meant we needed a repair shop and we needed it fast. Thankfully, and this is a word I will use often, there was a shop only 4.5 miles from the city center, so we spent the night in a Wal-Mart parking lot and the next morning gingerly drove our home to the mechanic.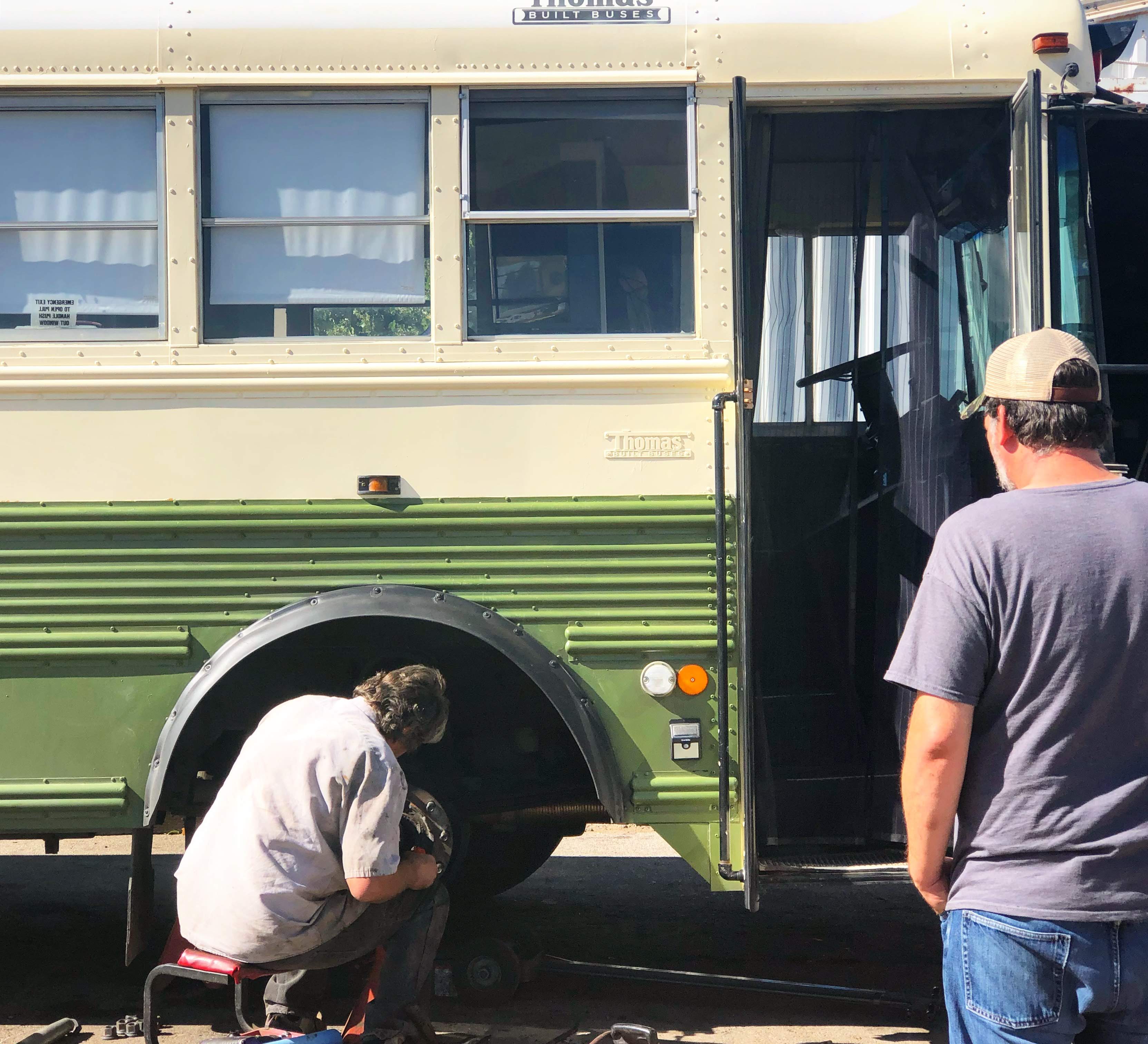 About two hours into the repair, with a very sick child in the car, it started to become clear that it wasn't getting done that day and that we were not staying in the bus that night. With my own health starting to go, and Jack in desperate need of a place to rest and work through this cold, we began looking for a hotel, something that wasn't exactly easy to come by in the area, at least not one that I felt comfortable staying at. We settled on a Motel 6, said our goodbyes to the bus and made our way to beds, food and election results. Oh, did I mention it was also Jason's birthday? Poor guy. We still owe him a cake.
Looking back on that day I'm pretty amazed we made it through without any major meltdowns. The stress level was pretty high and it seemed like everything that could go wrong, did. As much as I wanted to be in our home, being able to tuck into a hotel with a bathtub, cable TV, WiFi, and two big beds in the same room was a blessing. I could try to fight my cold, while still being there for Jack, and Ethan and Henry could veg out on some YouTube Minecraft videos.
Jason, however, was not relaxing. He was, thankfully, healthy, which meant he was dealing with all things bus. In order to keep costs down and move things along, he was driving two hours west, back towards LA, to pick up the new wheel bearing materials. Shipping was going to cost and it was timely, and we needed to get back in our home asap, so off he went on a long and frustrating drive.
The next morning we took the parts to the shop, crossed our fingers the spindle wasn't completely damaged, checked out of our hotel and headed for the park and the library. Jack was on the mend and we needed to get a little fresh air while we waited for the call telling us Bussie was ready. The call eventually came, but Bussie was far from being ready.
The spindle (which is what the wheel revolves around) was damaged beyond repair. We knew the wheel bearing had taken a major beating — in fact, it was pretty much gone, and they had to use a torch to get the nuts and washers off — but we had really hoped the spindle was salvageable. It was a pretty bitter pill to swallow. The manageable cost just went into the unmanagable zone. Our timeline just went from a couple of hours to days, possibly weeks. Jason and I were a bit stunned, actually, we were a lot stunned. We put our heads down and we worked the scenarios. We considered our options. We, thankfully, had options.
We booked another night at the same hotel (a big thanks to my brother for his free hotel credit), and we started making plans. I wanted to cry. I wanted to beat my head against a wall, but I couldn't. We needed to keep it together for the kids. They need to know things are alright or their anxiety overwhelms them. They are little people and they look to the big people for safety and reassurance. Sometimes tiny living doesn't allow you the kind of space you need to have those tough moments or private grown-up discussions away from little ears, so Jason and I have gotten pretty good at having the big chats without the big emotions. I say it's for the benefit of the kids, but really, it does us just as much good to stay calm.
We knew we were headed back to LA. Our mechanic suggested we take the broken spindle and scour the city to try and find one that wasn't going to cost $1,700 (the only quote they'd been able to find – and it would take 5-7 days plus shipping costs to get it there). Problem was, many of us were still under the weather and I couldn't bear the thought of returning to my brother's house and potentially sharing that illness with my seven-month-old nephew. Babies have enough going on without their cousins snotting all over them. We also didn't want to overtake their house for what was shaping up to be at lengthy repair time.
So, what do we do? We knew we had a place at my brother's, and that they would welcome us with open arms, loving hearts and care for us as we tried to figure this all out, but we were sick, and there was a little baby to think of. And that's when I remembered the offer from an old high school friend who also lives in an LA suburb.
It was then I began to think, maybe, just maybe, we might be able to make this work and offer the stability the kids need, and the health my little nephew deserves. It was the first time in 48 hours I didn't feel exhausted. It was the first time in 48 hours I felt a ray of hope.