Rainy weekend at the campground? Or maybe you're looking to bring something new to family game night? Whatever the reason, we've got five suggestions sure to bring every member of your family rushing to the campground picnic table, and bonus, most of these games won't take up too much space in the camper.
---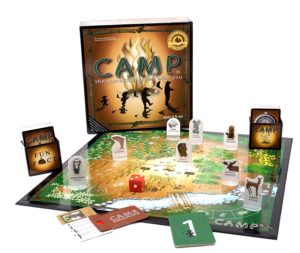 1. CAMP
A game centered around camping while you're camping makes for the ultimate family game night in the RV. We love this game for many reasons, but mostly because it has 4 levels of questions making it inclusive for every member of the family. Take a stroll across the board answering outdoor and geography themed questions ian n attempt to be the first one to reach camp. It's an easy play, with very little set-up making it the perfect board game for the camping and outdoor loving family.
---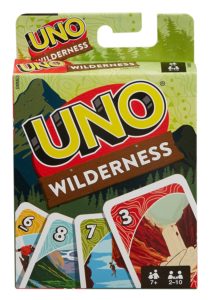 This one feels like a no-brainer. Super compact, but packed with high-intensity fun, UNO won't take up much space in the RV, leaving you free to bring more games. There's a reason this card game has been around for generations, and we love it, especially the cool wilderness edition. All the boys can play along, though often our youngest enjoys being on Mom or Dad's team instead of navigating his own set of cards, which can get epic if you find yourself without a card and having to draw. It's a great rainy weather game and one we think should come standard with every RV.
---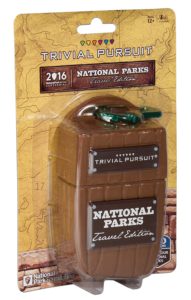 3. TRIVIAL PURSUIT National Parks Edition
Who doesn't love a game about the National Park Service? Who doesn't love trivia? Well, thanks to the NPS' 100th anniversary in 2016 you can have the best of both worlds. We've seen this in both a kid version and an adult version, but we don't think you need both. Our family has a ton of fun with the standard "adult" version and often we modify questions for our younger players. Compact and ready to be tossed in a backpack, this NPS Trivial Pursuit is the perfect addition to a backcountry camping trip.
---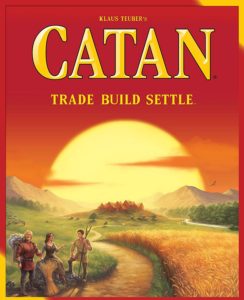 4. CATAN
Want to trade wheat for clay? How about wood for stone? Whatever you need to dominate, this game of settlement building is sure to make for a fun night of strategy and friendly competition. At our house, this game speaks to the older crowd, however. It's pretty simple in concept, but has the potential to be long on attention span, so you may find your younger ones fading after a bit. Like Monopoly, this is a game you could easily take a break from and return when everyone is feeling refreshed and ready to rule.
---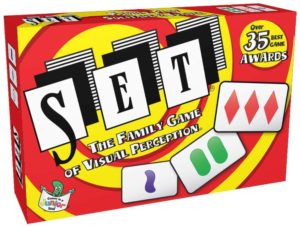 5. SET
This was THE game when I was in high school. Many an hour was spent during theater rehearsal and tech playing SET. This isn't exactly a quiet game, so it probably wasn't so great for those actually rehearsing. A quick-fire matching game based on shapes and designs, SET is perfect for two-players, but it's a whole lot more exciting with say 4, or 6, or 8…
---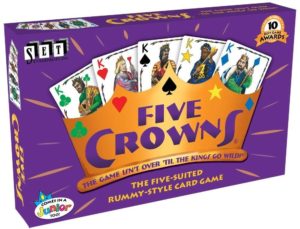 6. Five Crowns
Jason and I were introduced to Five Crowns by two of our dearest friends, and now every time we are in Kansas City we schedule a game night just for this game (alright, and Cards Against Humanity, but that's for when the kids are in bed…) This five-suited rummy-style game is simple to learn, but keeps you on your toes. Perfect for kids and adults, it can take only a few minutes to play through all the rounds, or it can take significantly longer. You never know till the cards are dealt. Five Crowns is easy to store and will take up very little space in your RV. It's the perfect travel game.
---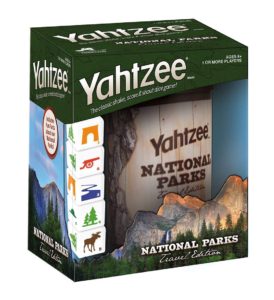 7. YAHTZEE National Parks Travel Edition
We might be the kind of people who will buy any game if it's National Park themed, and we are totally ok with that! However, we truly love YAHTZEE. In fact, Jason and I used to play this pretty regularly when I was pregnant with our oldest and we were anxiously and patiently awaiting the day that would change our whole lives forever. A fun game for both kids and adults, this YAHTZEE version goes great with Mountain backgrounds and beautiful wide open spaces. It's the perfect game to take on your next National Park adventure.
---
No products have paid to be included. Where available, we've included Amazon affiliate links. When you purchase anything on Amazon after clicking through from Our Wandering Family, we get a small kick-back. We appreciate the support!