RV living can be expensive and it seems more often than not when something has the label "RV" on it, the price increases two-fold, so we've put together a list of what we consider "must-haves" to make traveling a little easier without breaking the bank.
We considered the daily use of the item, the role it plays in our lives, the value of the item verse its cost, and how it stores in a small living space. We realize there are a lot of options out there and that all travel needs are different, but for us, this list below represents some of our favorite things from our last year on the road.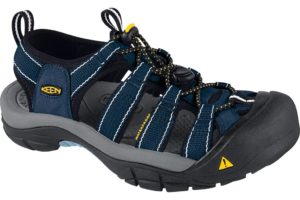 I know, this is a really obvious choice, but we couldn't put this list together without mentioning them. Our whole family owns at least one pair, specifically the Newport H2's, and their versatility can't be beaten.
Featuring a closed toe, the Keen sandal transitions from spring to summer, to fall, which means we don't need nearly as many shoes in Bussie. It also means they're great for all kinds of activities ranging from city exploring to trail hiking.
Yes, they smell after awhile, don't let anyone tell you they don't, but that is easily remedied since they are machine washable.
Keens can be expensive, however, the trick is to shop off-season and buy a size up for growing feet. Keens for our boys can retail for as much as $50 a pair, but buying off-season has saved us as much 40-50% off. We don't always find such a great deal for us adults, usually 25-30%, but we also get more than one season out of our shoes, so in the end, it balances out.
Bottom line: You'll get more bang for your buck, and more room too, if you equip your family with this versatile sandal.
We love our inexpensive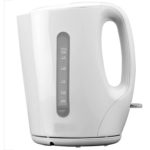 Mainstays Electric Kettle from Walmart. Hot water at our fingertips in under 2 minutes means coffee gets in our cup faster, and that is always a good thing. It's also a quick and easy way for any camper who doesn't have water in their rig to get hot water to their camp sink and spend less time washing dishes. It's small enough that it fits perfectly on our counter and at around $11 it has definitely given its money's worth.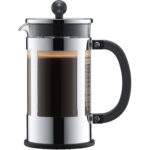 It seems only appropriate to follow up the electric kettle talk with a little coffee talk. There is no better cup of coffee (in our opinion) than that made in a french press. Now, you pour-over lovers out there may want to argue this, but over the years, we have come to love the ease of our french press.
There are many coffee making options designed for camping, but they are expensive, and unless you are spending a week in the backcountry and the idea of Starbuck's VIA's makes you want to vomit, you don't need to buy one. We own the Bodum Scandinavian Design French Press and it's been perfect for two adults. It is a glass container, which can be of concern for some travelers, but we've had ours for over a year and with no issue. Retailing at around $20 it's certainly a more budget-friendly option than the camping versions you'll find out there.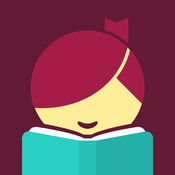 If you are a member of your local public library you have access to their eBook and audiobook selection, most likely through a company called OverDrive and their "Libby" app. This FREE service allows public library members to check out books and download to your compatible device no matter where you are in the country, and with tens of thousands of eBooks and audiobooks available, there is always something for our family to read or listen to. Now, you may have to wait for the latest novel, and they don't always have a lot of copies available digitally, so if you are someone who must have the latest when it comes out, an Audible subscription or purchasing the book may be more your style. But if you don't mind waiting from time to time, this free service can put a little extra change in your pocket and keep you well read.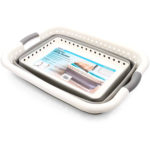 We've tried out a couple of different styles of collapsible laundry/utility baskets, and this one from Camco has been our favorite by far. Sturdy, compact and spacious, we've used it on laundry days, as an extra storage area for smaller items on travel days, and as an immediate place to deposit wet swimsuits, towels, clothes or shoes. It folds pretty flat and stores easily in our bathroom, and unlike baskets where the sides fold in, this is all one piece, and won't fall apart on you as quickly as ones that snap together do. It retails for around $18 depending on where you can find it.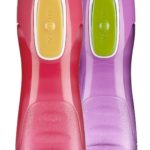 We have been using the Contigo Autoseal Trekker Kids Water Bottle since our oldest was in preschool. Of all the water bottles we've used these are by far the sturdiest and easiest to use. No small pieces, easy to clean, strong seal the and the perfect size for smaller hands. We like them so much we own adult versions similar to the Trekker, and of all the water bottles we carry, the Contigo Autoseal Cortland Water Bottle is our preferred bottle. It easily hooks to our backpack, there are no small pieces, it's easy to clean and incredibly sturdy. Water bottles can be expensive, and there are a lot of options out there, but over the years we've kept coming back to the Contigo brand because they are realistically priced and the quality exceeds the cost.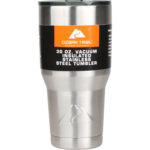 Move over Yeti, there's a new tumbler in town and it's under ten dollars. The Ozark Trail brand has been upping its game lately and making quality products at an affordable price, and these tumblers are their crowning achievement. The 30-ounce tumbler retails at Walmart for $9.75 which compared to the Yeti Rambler 30 ounce priced at $34.99 is a huge savings. We own both the 30 ounce and the 20-ounce tumblers and they keep our cold liquids COLD and vacuum seal just as well as the Yeti tumblers. There are a lot of Yeti knockoffs out there, and people are right to say they don't work as well, but this is not the case with the Ozark Trail line. They do the job and they do it at a price point that allows you to own more than one without breaking the bank.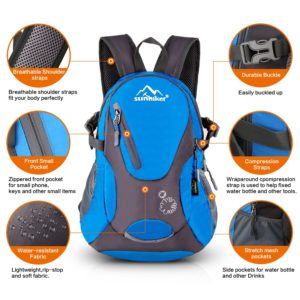 We really wanted our boys to have hiking/outdoor backpacks, however, we didn't want to pay the $50 price tag we were seeing, so thankfully we found the Sunhiker Small Daypack, which is NOT billed as a child's backpack (which is probably one of the reasons why you can find it for $28 on Amazon, since, like the word "RV" anytime something is for kids the price goes up).
This backpack is perfect for both our 7 and 10-year-olds and checks off all our must-haves, such as a sternum strap, water resistance, side pockets for water bottles, and lap belt. And for the boys, it comes in their two favorite colors – blue and green. Over the last couple of months we have put these packs to the test and just recently both kids wore their packs during a moderate 3-mile hike in Voyageurs Nat'l park with no complaints. If you are looking for a rugged and trail worthy daypack for your kiddos, give the Sunhiker Small Daypack a try. It's a great price for a great pack.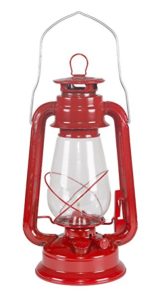 If you are not a fan of the LED trend currently sweeping the campground, then you are going to love the soft yellow glow of this hurricane lantern. Retailing at around $8 a lantern, the inexpensive Stansport 12″ Hurrican lantern hits all the right notes when it comes to outdoor lighting. Available both online and in many retailers, you can often find them in black or red (we prefer the look of the red) and they are incredibly easy to put together and use. They provide a soft yellow glow that perfectly illuminates your space without lighting up your neighbors' as well.
They are not rough and tumble lanterns, so don't go knocking them off the table or swinging them around, and yes, many of the reviews claim they leak, but after a year of working with these lanterns we feel strongly that it's not the design that causes the leaks, but rather the overfilling, so, as with all kerosene lanterns, do try to avoid overfilling and you should be fine.
Campground illumination can be expensive, so if you are looking to add a little old-school design at an old-school price, we recommend you check out this Stansport lantern.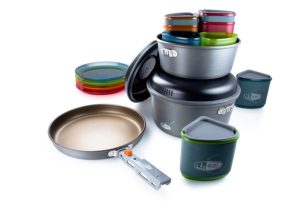 This is by far our most expensive item on this list, but it is also an item that checks off a lot of your kitchen needs AND saves space. We purchased this set back when we were a tent camping family and all these years later we are still using and finding value in this purchase. Retailing around $140 this all in one cooking set is a huge space saver thanks to the fact that everything nests together and is easily storable.
It's set up for a party of four, so we did purchase a few additional plates, but the pots, the fry pan (which is small – you can fry two, maybe three eggs at a time), the cups, nesting bowls and accessories have served us so well over the years. The cups feature tight-fitting lids and have replaced all coffee cups in Bussie. They have an insulated sleeve and we never have an issue with coffee going cold too soon.
The large pot is big enough to make a family-size pasta dinner and the smaller pot is perfect for cooking up a good ol' box of Mac n' cheese for the kids. The lids have built-in holes to act as a strainer, again cutting down on the items needed, although, we'll be honest and say, that we've lost many a pasta in our lifetime and eventually went back to using a traditional strainer as the tears of children over their fallen pasta became too much to handle.
The plates may be more kid size to some, but since they are made to be space savers that is understandable. This is one of those camp geared products that we feel confident in saying is worth the price. In fact, we have always been big fans of GSI Outdoors and find their products to be worth the price tag and withstand the test of time.
---
Have an item you'd add to this list? Leave a comment below and let us know. We are always on the lookout for new items that enhance our quality of life without breaking the bank.