If you listen to the RV Miles Podcast you've probably heard us talk about the joys and challenges of hiking with kids. We find hiking to be a great way to reset a bad day or get a feel for the area we are visiting, and with a few good and bad hikes under our belt, we hope these ten tips will help encourage you to get on the trail for your first or 101st family hike.
Take It Easy and Keep It Kid-Friendly
In the beginning, selecting hikes that are easy, and come with some sort of visual feature – a lake, stream, waterfall, overlook, etc – will offer your family a chance to see exactly where everyone stands when it comes to hiking, and it'll give the kids a visual stimulator to keep them engaged. Shorter loop trails are great, especially if you can find one that's an easy half-mile trek. Remeber, a half mile may seem like nothing to you, but for your little hiker, especially the littlest ones, a half mile requires taking two or more steps to your one, so go slow in the beginning. Even if they can last for hours on the playground, a kid's endurance on a trail seems to evaporate almost as soon as they take their first step.
A Backpack for Each Kid
All three of our boys were gifted hiking backpacks for their birthdays and they have been a total game changer on the trail. We don't put too much in them in order to keep the weight on the low end, but each kid carries their own water bottle, snacks, a hat or sunglasses, and a lightweight wind/rain jacket. You can see the Sunhiker backpack along with the Contigo water bottles we love here.
Invest in a Carrier
Your kids don't have to be independent walkers in order to hike. A baby carrier can allow you the freedom needed to start hiking as early as you'd like, and a solid carrier will last you for years. In fact, we recently retired our Ergo as our youngest finally reached the weight limit, and I'm considering investing in a preschool-aged carrier to allow our family to go on longer hikes without pushing Henry further than his little legs can carry him. Now, personally, I'm a soft carrier type of wearer, but Jason has always preferred a frame carrier. Below are a few recommendations that can have you wearing from day one and well into preschool and beyond.
Kelty Journey PerfectFit: This frame carrier can hold up to 50lbs total and comes with a built-in daypack for all your (and your kiddo's) hiking needs. Retails for around $200.
Ergo Original:  There is no better soft carrier in my opinion, and I have been using the Ergo Original carrier since almost the very beginning of my parenting days. With the help of the newborn insert, you can start wearing your baby from day one and continue until they're 40 lbs. This versatile carrier is perfect for wearing out on the trails, and more often than not, Henry would fall asleep on the longer hikes and wake-up ready to hop back down and continue on the trail.
Tula: This soft carrier is perfect for the older kiddo in your life. With a weight range of 25lbs – 60 lbs, this is the next carrier for our family should we feel that Henry isn't ready yet for those longer more strenuous hikes that his older brothers are capable of doing.
Give Yourself Lots of Time
If the map says 3 hours, plan on 4 hours or more. Trust me. We have learned this the hard way multiple times over.
Turning Around is Not a Sign of Failure
On the contrary, if you get out on the trail and the kids are just M-I-S-E-R-A-B-L-E (and I'm talking beyond the initial — and totally normal — first 10-15 minutes of protests), turn around. There is no shame in that game. We've turned ourselves around on several trails, and yeah, it stinks, but you know what stinks even more? Having a negative association with hiking and then having your kids (or you) automatically assume a hike means family trouble. Offer yourself a little grace, and if today isn't the day, head on back to camp and reset with some s'mores.
Layers, Layers and More Layers
Here's where having each kiddo carry their own backpack comes in really handy. Layering is the key to a successful hike. Having pieces that keep you warm but that can also be removed will save you a lot of headaches, especially if your trail will have you changing elevations. As mentioned, we keep a compact wind/rain jacket in each of our kids' backpacks at all time, and then we add items depending on the season and the hike. We are big fans of the L.L. Bean Kids' Discovery Rain Jacket. It has lasted through two years of trails and kept the kids dry and protected from the wind.
Leave the Crocs at Home
A trail is no place for open-toed/non-supportive shoes. Now, I'm not advocating you go out and spend a ton of money on hiking boots for your kids, personally, I think they are all way too heavy and uncomfortable, but it is important to keep your kids' feet protected and supported. If the weather is on the warm side, our kids hike in Keens. If the trail seems like it might be a bit rough, we will have them wear a sturdy athletic shoe, but it does have to have a reinforced toe that will protect their toes from the rocks they are guaranteed to trip over.
Prepare for Anything
This pretty much goes for all walks of the parenting life, so it's really no surprise that like parenting, hiking is all about being prepared. In addition to having the 10 Essentials, consider taking along a few kid-friendly supplies such as wet wipes, tissues, lip balm binoculars, field guides, and safety whistles (and teach them what they are for and when to use them).
Leave No Trace
Our kids are future stewards of our public lands, and so it's important we teach them just how special and spectacular these places are. The best way to do that is to be good stewards ourselves and ask our kids to join us. The Leave No Trace initiative is a great place to start. When out on a hike, make sure that all of your trash is collected — taking a gallon size zip-top plastic bag always works well for us — the "pack it in, pack it out" concept is a really easy one to enact on trails. You can take it a step further, and bring a small garbage bag which can be used to collect any litter your kids see on the way back to the car or back to camp. While taking a break (because you will take a lot of breaks when hiking with kids), examine the area and make sure everything is in its place, and that you are leaving no trace of having been there (for example: If your child dug a hole with a stick, cover it up again before you leave).
For more information on Leave No Trace, visit www.lnt.org.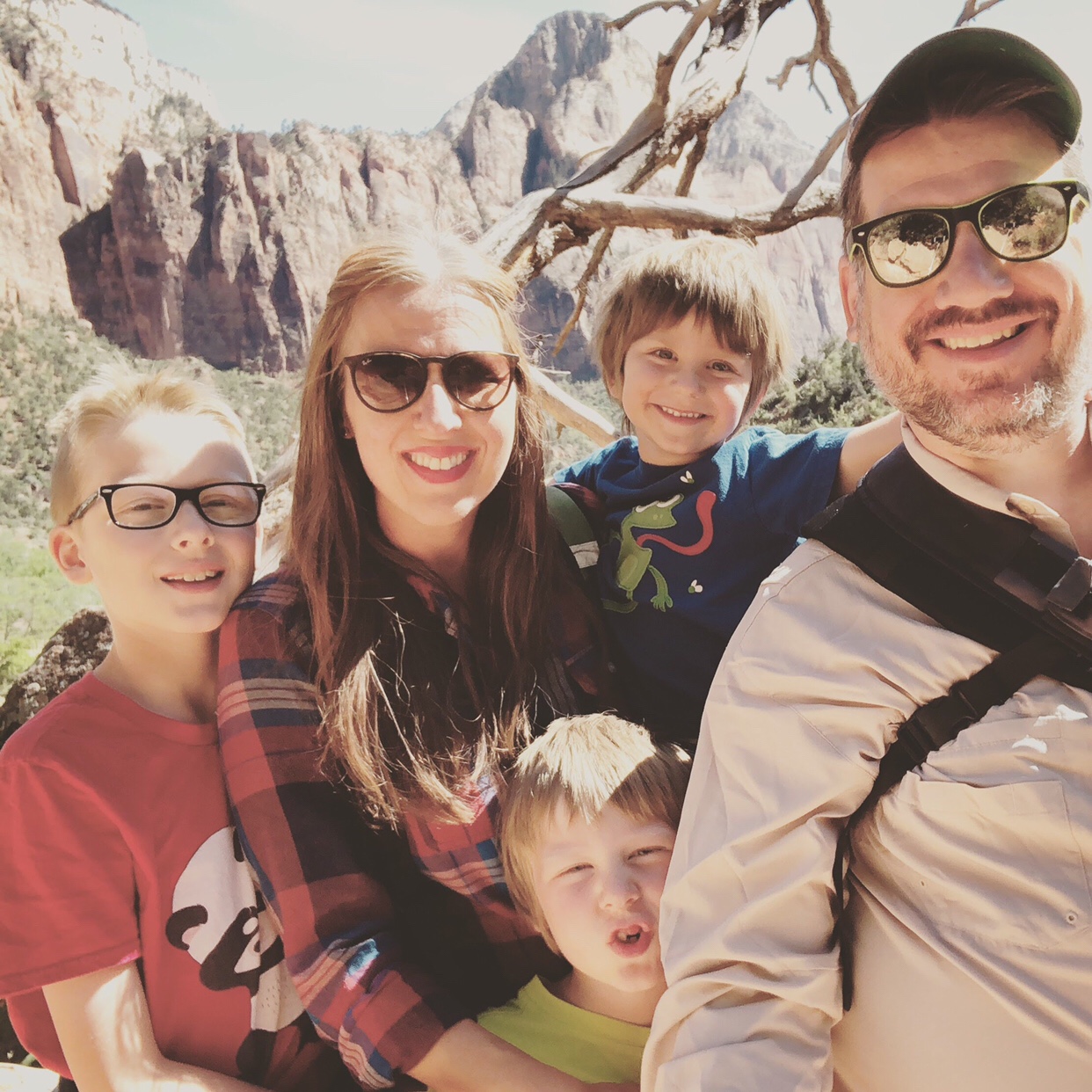 Just Do It
Like the Nike slogan, family hiking is all about just doing it. It doesn't have to be perfect, and this list is nothing more than a bunch of suggestions, so if you don't have the backpacks or the field guides, and you haven't read up on the latest Leave No Trace initiatives, that's alright. The important thing is you're here, you want to hike with your family and you are committed to doing so safely. There have been times when I have considered a walk around the campground a family hike. The more you hike the easier it will get. I promise.