As a full time Wandering Family, we find that travel days, or long car rides, are more enjoyable when filled with the imaginative world of audiobooks.
Below is a list of our ten favorite titles, all of which can be purchased through Audible, or your local library. Have a suggestion for an audiobook we should check out? Leave a comment below and let us know what your family is listening to!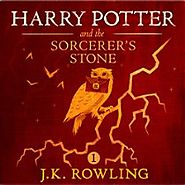 Narrated by audiobook wizard Jim Dale, HARRY POTTER has been incredibly popular with our family.
Dale is amazing, and I love this quote from the The Los Angeles Times - "to call Dale a 'reader' of books is like saying Monet was a Sunday painter." Our family couldn't agree more.
HARRY POTTER is why we joined Audible in the first place, using our $14.95 a month credit to purchase each Audio books as it came time to start a new one. It is well worth the investment and already our two eldest have revisited books 1-3 at least once each.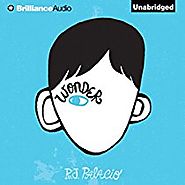 Publisher's Summary: August (Auggie) Pullman was born with a facial deformity that prevented him from going to a mainstream school - until now. He's about to enter fifth grade at Beecher Prep, and if you've ever been the new kid, then you know how hard that can be. The thing is Auggie's just an ordinary kid, with an extraordinary face. But can he convince his new classmates that he's just like them, despite appearances?
WONDER has been a bridge to some really meaningful conversations with our kids. I have been particularly impressed with the narrators of WONDER and I do believe hearing these words spoke by a group of talented individuals has left an even stronger impact on all of us. With WONDER making its way to the big screen this November, now is the perfect time to get to know the world of Auggie Pullman. You will be forever changed.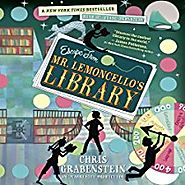 Publisher's Summary: Kyle Keeley is the class clown, popular with most kids, (if not the teachers), and an ardent fan of all games: board games, word games, and particularly video games. His hero, Luigi Lemoncello, the most notorious and creative game maker in the world, just so happens to be the genius behind the building of the new town library.
Lucky Kyle wins a coveted spot to be one of the first 12 kids in the library for an overnight of fun, food, and lots and lots of games. But when morning comes, the doors remain locked. Kyle and the other winners must solve every clue and every secret puzzle to find the hidden escape route. And the stakes are very high.
In this cross between Charlie and the Chocolate Factory and A Night in the Museum, Agatha Award winner Chris Grabenstein uses rib-tickling humor to create the perfect tale for his quirky characters. Old fans and new listeners will become enthralled with the crafty twists and turns of this ultimate library experience.
The premise behind this story is great and the kids enjoyed all the literary references, especially when they were able to say, "we've read that!" Jesse Bernstein, who you may recognize from Curious George, is the perfect narrator for this tale of adventure inside the library. At times, I wasn't a fan of some of the more colorful kid language, but it did open up a chance to discuss why words can hurt and examine ways that we can express our feelings without putting another person down.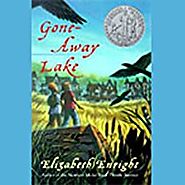 Publisher's Summary: Enjoy the adventures of eleven year-old Portia, who together with her younger brother, Foster, spend a summer with their cousin, Julian, engaged in more than the usual summer pastimes of sun, fun, and games. The three intrepid children soon discover a fascinating abandoned summer resort, consisting of deserted crumbling Victorian summer homes surrounding a vanished lake, which is now a swamp. But, best of all, they discover and befriend an elderly eccentric brother and sister who tell them the story of Gone-Away Lake.
This is about as perfect as Children's literature can be. We listened to this book as part of our homeschool book club, and it was an absolute hit with all the kids. Colleen Delany brings the right amount of youthful innocence and warmth to her narration, and I was thrilled to see she also narrated the sequel, RETURN TO GONE-AWAY LAKE. Plenty of laughs and nostalgia with this one. Easy and enjoyable summer listen.
The LITTLE HOUSE series is part of the fabric of childhood. Our boys have enjoyed the adventures of Laura and her family and being able to continue the adventures through audiobook has been such a treat. And if just having the series on audio wasn't enticing enough, Cherry Jones lends her talents to the narration. It's a beautiful pairing and Jones takes these iconic books and breathes new life into them in a way that both lovers of the series and those new to the world of LITTLE HOUSE will enjoy.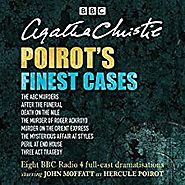 This may seem like an odd choice, but our family has really enjoyed the "whodunnit?" world of Hercule Poirot thanks to the BBC Radio Dramas. With a full cast, sound effects and the incomparable John Moffatt as Poirot, these eight cases are so much fun to listen to and speculate on. Even our six year old was getting in on the action. Below is a list of the mysteries featured all based on Agatha Christies beloved novels.
"The ABC Murders": A chilling letter sets the sleuth on the trail of an enigmatic killer.
"After the Funeral": A wealthy businessman is dead, and his sister thinks it was murder.
"Death on the Nile": Poirot is in Egypt when a chilling murder takes place.
"Peril at End House": Whilst on holiday, the sleuth encounters a young woman, a hat, and a bullet.
"The Murder of Roger Ackroyd": Mrs Farrars is found dead, one year after the death of her husband.
"Murder on the Orient Express": Poirot is aboard a snowbound train when a passenger is found murdered.
"Three Act Tragedy": Poirot is one of the guests at a party when a clergyman dies whilst sipping a cocktail.
"The Mysterious Affair at Styles": Poirot and Captain Hastings become re-acquainted in a quiet English village in 1916.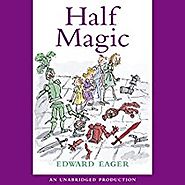 Publisher's Summary: Beloved by children (and the parents lucky enough to share it with them) since it was first published in 1954, Half Magic is the uproarious tale of four siblings who discover a charm that grants exactly half of whatever they wish for - with results that are twice as predictable (and hilarious) as you might expect.
Jane, Mark, Katharine, and Martha manage to cope with an unexpected trip to the Sahara and nearly a disastrous trip to the time of King Arthur. But can these plucky and resourceful children deal with the changes magic is bringing to their tight-knit family?
Set in Ohio in the late 1920s, yet fresh and funny now as the day it was written. Half Magic weaves its spell anew in this full cast recording that will entrance newcomers as well as fans who have loved this wonderful book for decades.
HALF MAGIC, is a clever way to bring math into your young listeners literary world. Our kids were using division and problem solving techniques in order to figure out how they too could make a wish that would get them the whole wish when every wish is halved. HALF MAGIC was another homeschool book club book and made for some really fun and silly conversations between the kids, not to mention it sparked some very imaginative play.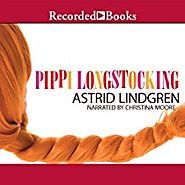 Publisher's Summary: If you've ever dreamed about a life of absolute freedom, you'll love this book. First published in 1950, Pippi Longstocking has given generations of kids a vision of days free from chores, bedtime hours, and homework. Now Christina Moore's delightful unabridged narration gives new life to Pippi's unconventional, free-spirited adventures.
This is an audiobook who's name immediately makes me recall the sound of my children's laughter. They thought Pippi was about the best kid there ever was and we all enjoyed her responsibility free world and free-spirited nature. This, again, was one of those books that inspired much imaginative play in my kids and is still talked about fondly. You really can't go wrong with spending a little time in Pippi's world.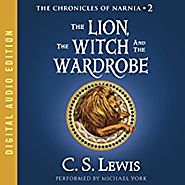 Publisher's Summary: Narnia...the land beyond the wardrobe door, a secret place frozen in eternal winter, a magical country waiting to be set free.
Lucy is the first to find the secret of the wardrobe in the professor's mysterious old house. At first her brothers and sister don't believe her when she tells of her visit to the land of Narnia. But soon Edmund, then Peter and Susan step through the wardrobe themselves. In Narnia they find a country buried under the evil enchantment of the White Witch. When they meet the Lion Aslan, they realize they've been called to a great adventure and bravely join the battle to free Narnia from the Witch's sinister spell.
This was the first book written in The Chronicles of Narnia. It now stands as the second book in the series, preceded by The Magician's Nephew.
Michael York reading THE LION, THE WITCH AND THE WARDROBE is just as perfect a pairing as Jim Dale reading HARRY POTTER. The world of Narnia comes alive under York's narration and, like so many books listed here, we purchased this with our Audible credit in order to allow the kids (and lets be honest, parents too) access to this incredible telling whenever the mood strikes.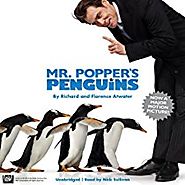 Publisher's Summary: The 1938 classic tells the story of Mr. Popper, the small-town housepainter who dreamed of exploring Antarctic regions, and Captain Cook, the redoubtable penguin who turned Mr. Popper's world upside down.
We adored this book and timed the listening of it to a local children theater's production, and it was all so magical. From word one we were hooked on the world of Mr Popper and his adorable penguins. This is a quick, but oh-so-enjoyable, family read that has landed in our top list of books we will definitely listen to again.