We love carbs in our house, and when we were in our sticks and bricks I went through a period of making freshly baked bread all the time. And I mean ALL. THE. TIME.
Fast forward several years later and here's me living in an RV and I've yet to dive back into the world of homemade bread. However, now that we are out of Wander Bus and into an RV with an actual oven, I'm thinking I might give it a go and this no knead dutch oven bread will be my practice loaf.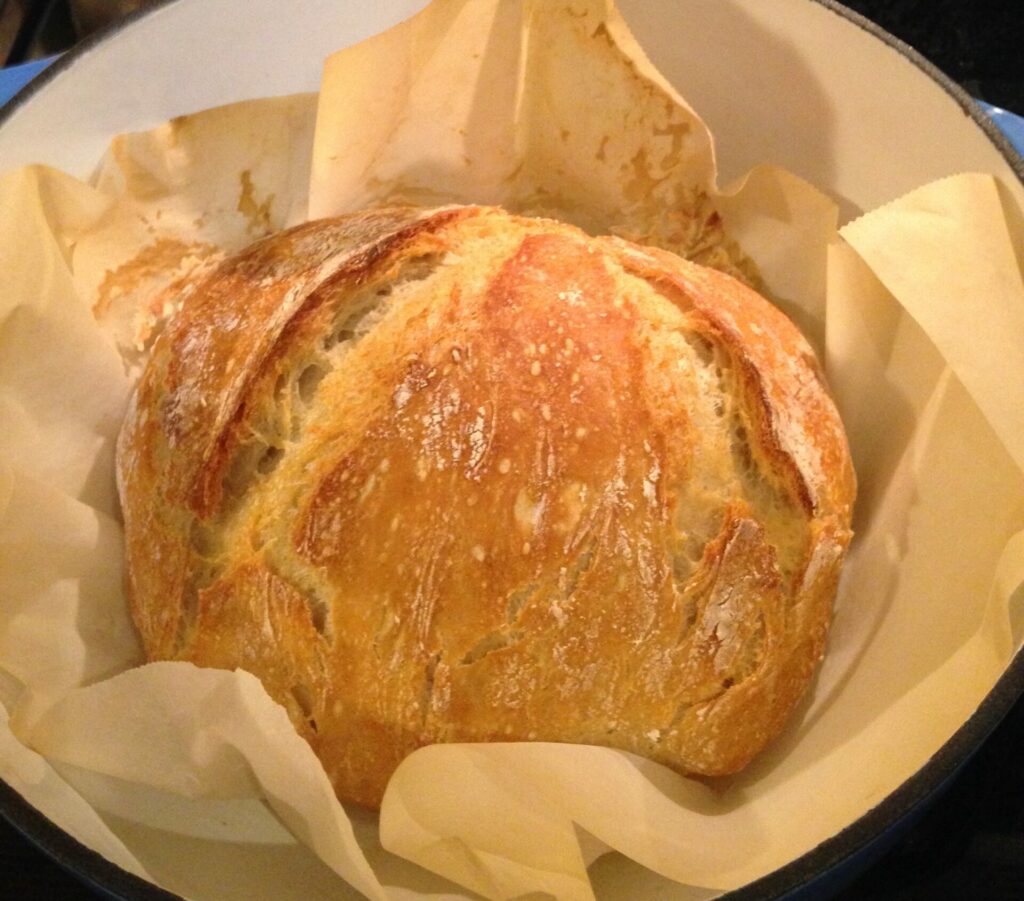 We recently made this easy, delicious and oh-so-yummy-smelling bread while visiting with my Mom and we may have set a record for the fastest consumption of a loaf. Half of it was gone before I even thought to take a picture. I feel confident Paul Hollywood would have thoroughly approved and we would have been bread week's star baker.
So, grab your Dutch Oven and enjoy some of the best homemade bread you'll have this decade.
No Knead Dutch Oven Bread Recipe:
Ingredients:
3 cups all-purpose flour, plus a little more for shaping
2 teaspoons of salt
1 teaspoon of active dry yeast
1 1/2 cups warm water (around 110 to 115 degrees F)

Instructions:
In a large bowl, whisk flour, salt, and yeast until mixed. Pour in warm water and use a wooden spoon to stir until a dough forms. The mixture should be wet and pretty sticky.
Cover bowl tightly with plastic wrap and set aside in a warm place for eight hours until dough rises.
Pre-Heat oven to 450 degrees F. Once preheated, place a 6-quart Dutch oven (with cover) in the oven 30 minutes before baking (do not put the dough in yet. This is a very important step).
Punch down dough and flour a sheet of parchment paper. Place the dough on parchment and quickly shape the dough into a ball. If you'd like, sprinkle the top lightly with flour. Top with a sheet of plastic wrap and let rest 30 minutes.
Remove Dutch oven, uncover dough and carefully transfer to Dutch oven, with the parchment paper still under the dough. Place lid back on Dutch oven and return to oven. Bake bread 45 minutes covered, then uncovered another 10 to 15 minutes until dough is baked through and golden brown on top.
If you can wait, let it cool slightly. We couldn't wait and my fingertips hurt typing this, but it was worth it. Slather in butter and enjoy!
Want to make this at the campground? Grab a cast iron like this one and give it a go using hot coals and your campfire. I haven't tried it, but Jason is keen to. We'll see…