Our first bedtime in Bussie that felt familiar and encorporates parts of our routine.
We've been away from the blog for awhile. Almost 2 months, actually. I've tried a few times to sit down and update but its felt incredibly overwhelming to describe chaos as you are living in the chaos. Things have recently settled into a temporary hold, so it seems as good a time as any to share what's been going on.
We are officially in Wander Bus. We successfully sold almost everything we owned and the rest went to donation or our 5X5 storage unit. Downsizing was a much more arduous task than I'd expected and in retrospect I wish I'd started back in the spring rather than 6 weeks before our move date. Live and learn, right?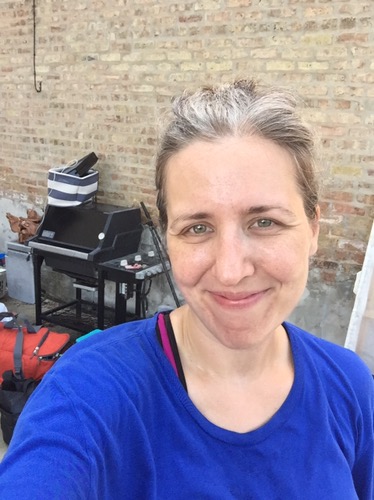 In our back courtyard sorting through stuff that temporarily had to go to storage. The depth of my exhaustion was at an all time high.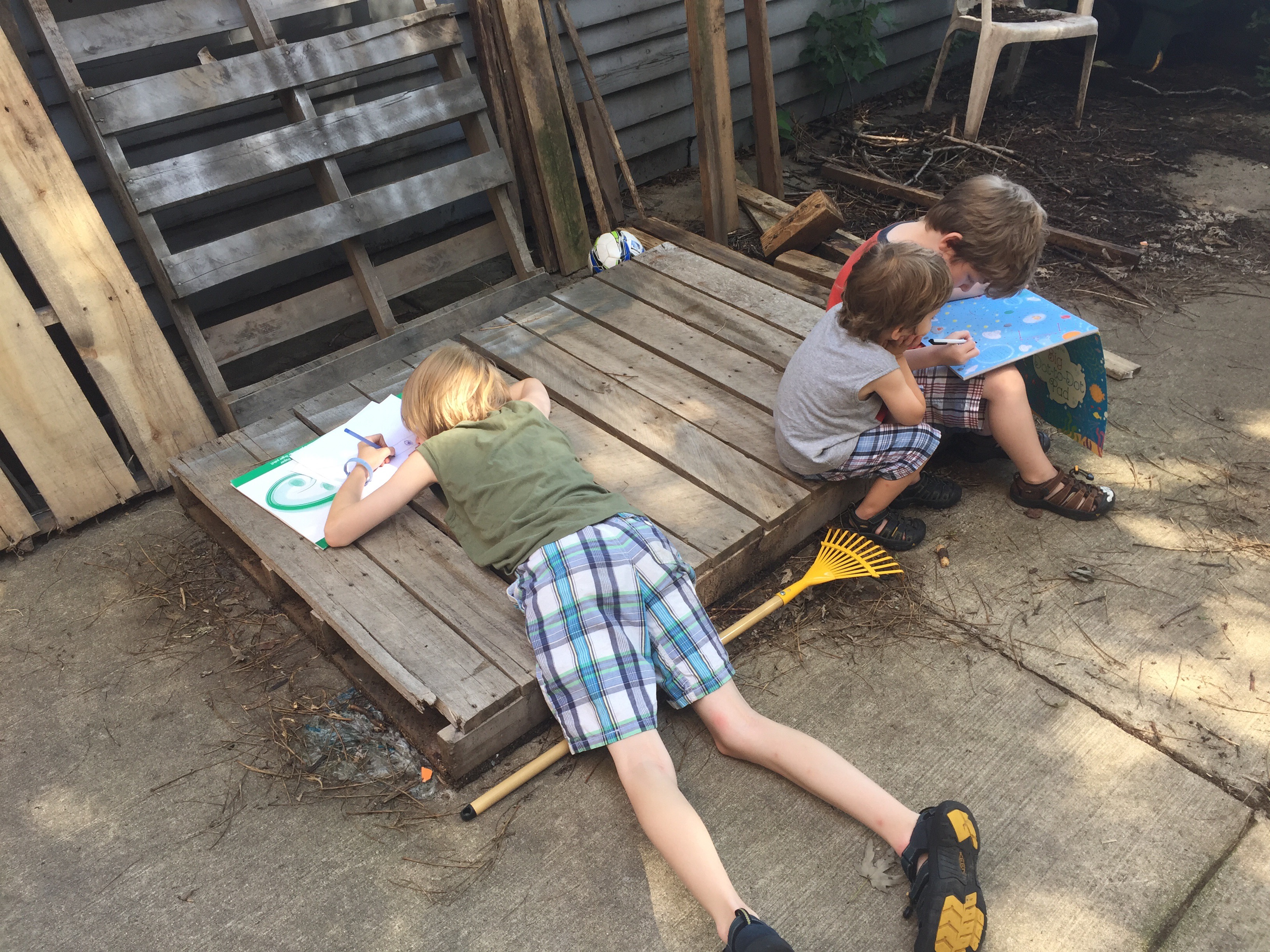 Hard at work being kids on moving day
Our move wasn't easy. The bus wasn't liveable the day we moved out and we had a lot of stuff going to a lot of different places so time was forever against us. Thankfully we had some amazing friends invite us (and the bus) to their home for a few days so we could make Bussie as liveable as possible before we checked into our campground on the 1st of Sept. I can honestly say we'd have been in a hotel for many days had it not been for the 24/7 access to the bus our friends offered us. With their help we got Bussie to liveable mode. I rang in my 37th birthday elbow deep in paint and stress, but happy to be done with our old place and focusing on our new.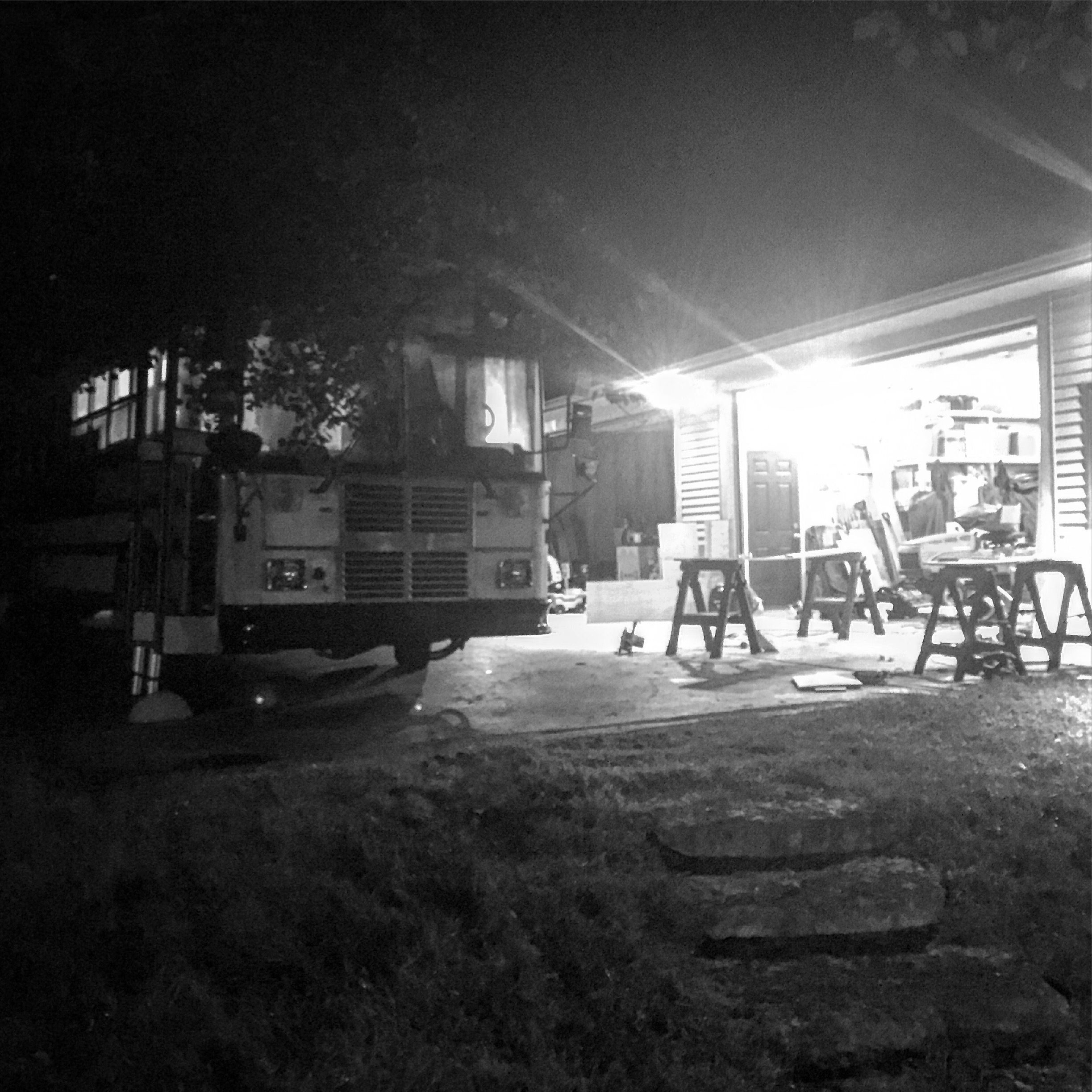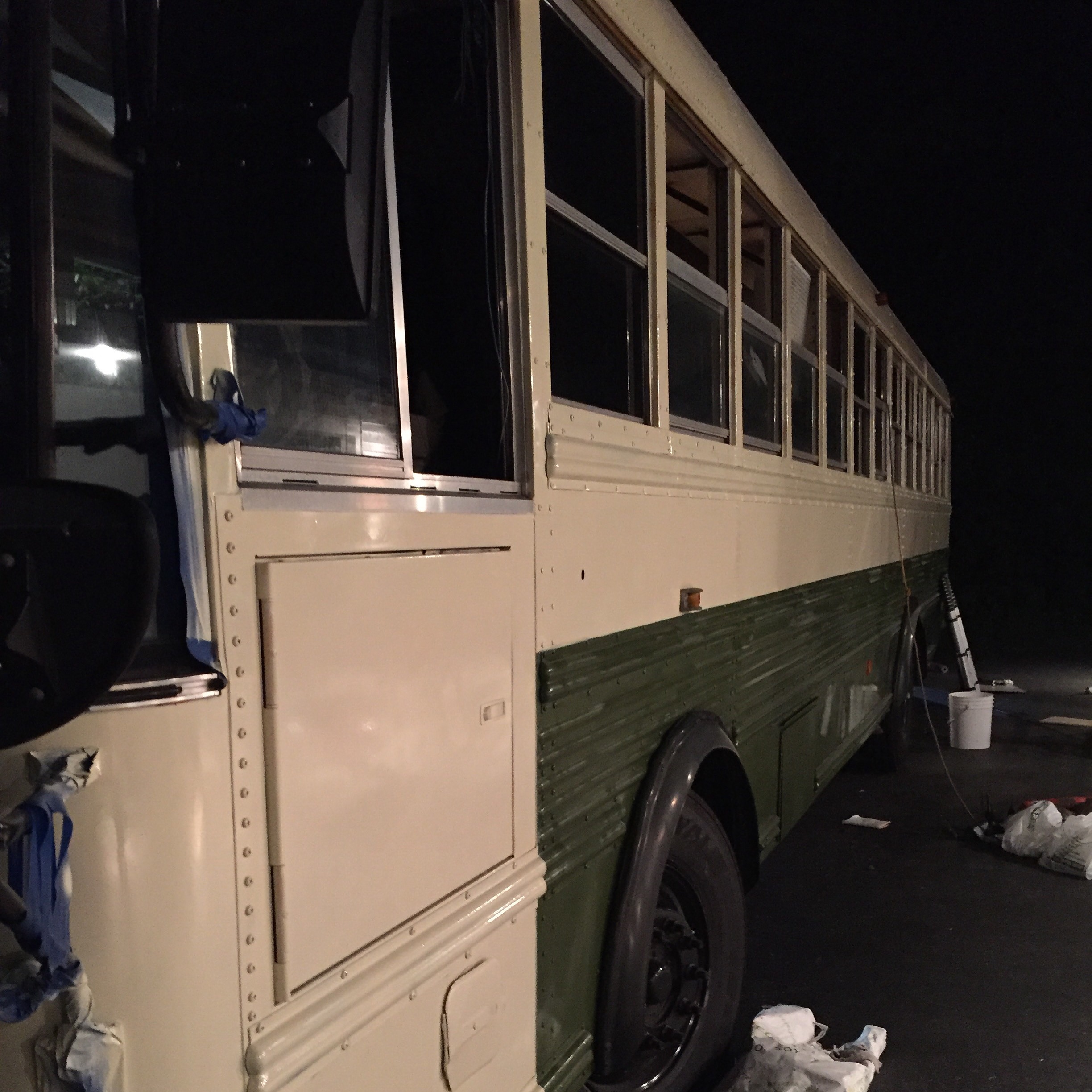 Long days and nights yielded results that allowed us to move into Wander Bus
We are currently in a campground 40 miles NW of Chicago in a bus with no electric or water. It's a weird hybrid of glamping and RV'ing. There's a lot of cosmetic issues still, but life is cozy. The beds are warm, the fridge and other electrics are running off power cords plugged into the outlet outside and I am sleeping better than I have in a long time. Jason is gone all the time right now, opening a show, so nothing is being done on the bus and that's a bit frustrating. But, we are at our limit of what we can handle, so if kids have to walk to the bathhouse and dishes have to be washed in a camp sink, so be it. Life won't always be this way.
I think a lot about what we could have done differently. I never had a sign we weren't using our time well, but obviously we weren't. We have moved our family into a bus that's still in the renovation phase. It's almost comical.
For now, my focus is on structure for the kids and helping them adjust to this new life. Each day sees them spending more time outside and less time wanting/in front of electronics. Our first week in the bus each child got sick. I called it our christening. Second week has seen a great improvement in their health and my mental stability.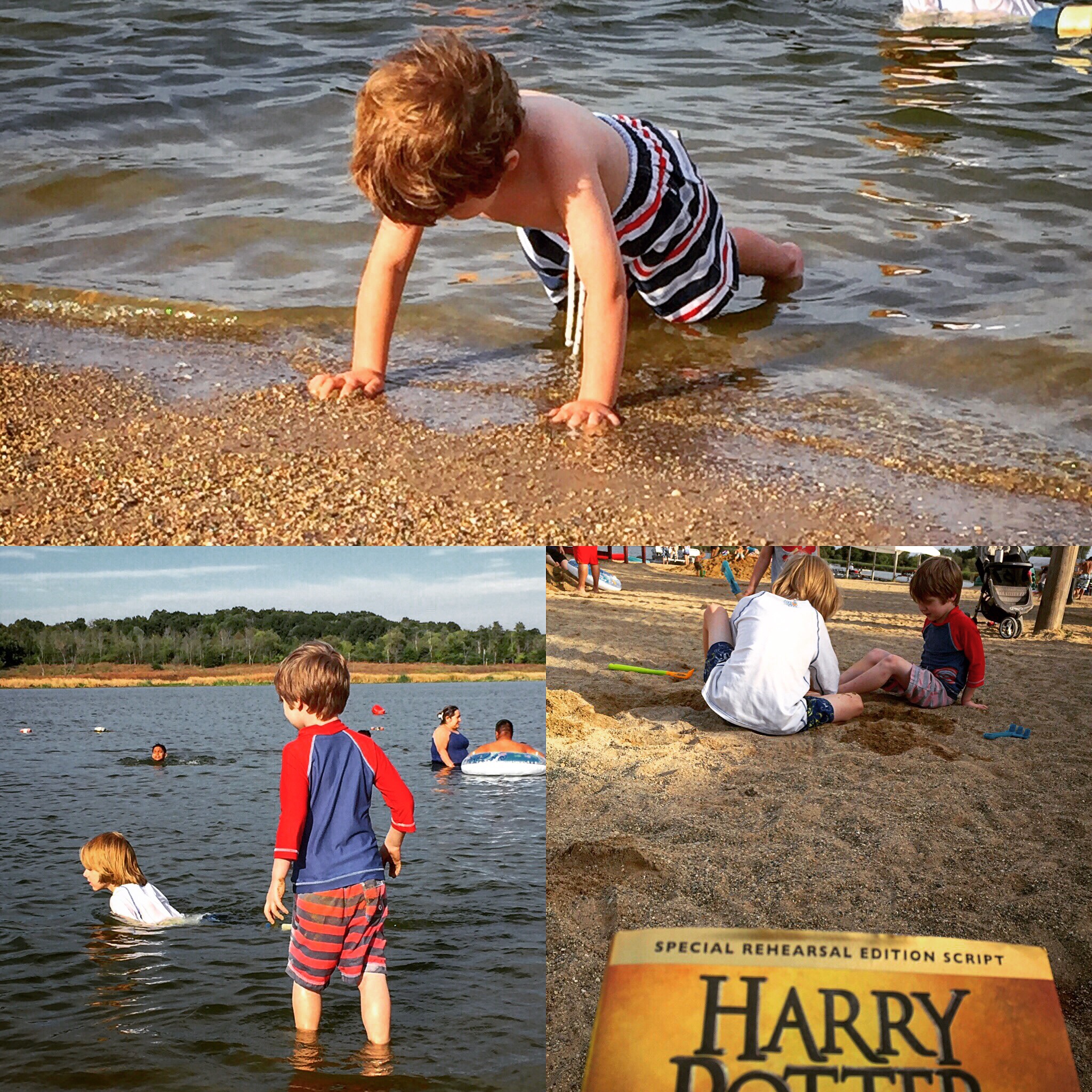 Enjoying some beach time at the campground (weekend we moved in was the last weekend the beach was open. Wah-Wah).
Cooking isn't awful. I couldn't love my convection toaster oven more if I tried. Laundry has been decent. Today I spent 2 hours at the laundromat with 3 kids doing 7 loads of laundry. We went almost 2 weeks before needing clean clothes and that makes me happy.
We've had some set backs, no doubt, and the bus isn't as together as I'd like, but with each passing day she feels more like home. Every day I see something in my kids that tells me we are on the right path. The stars at night fill the sky and we go to sleep without the sound of sirens or urban noise. Nature is at our doorstep beckoning us to come and explore and I look forward to answering the call and journeying on. Just need running water and electric first…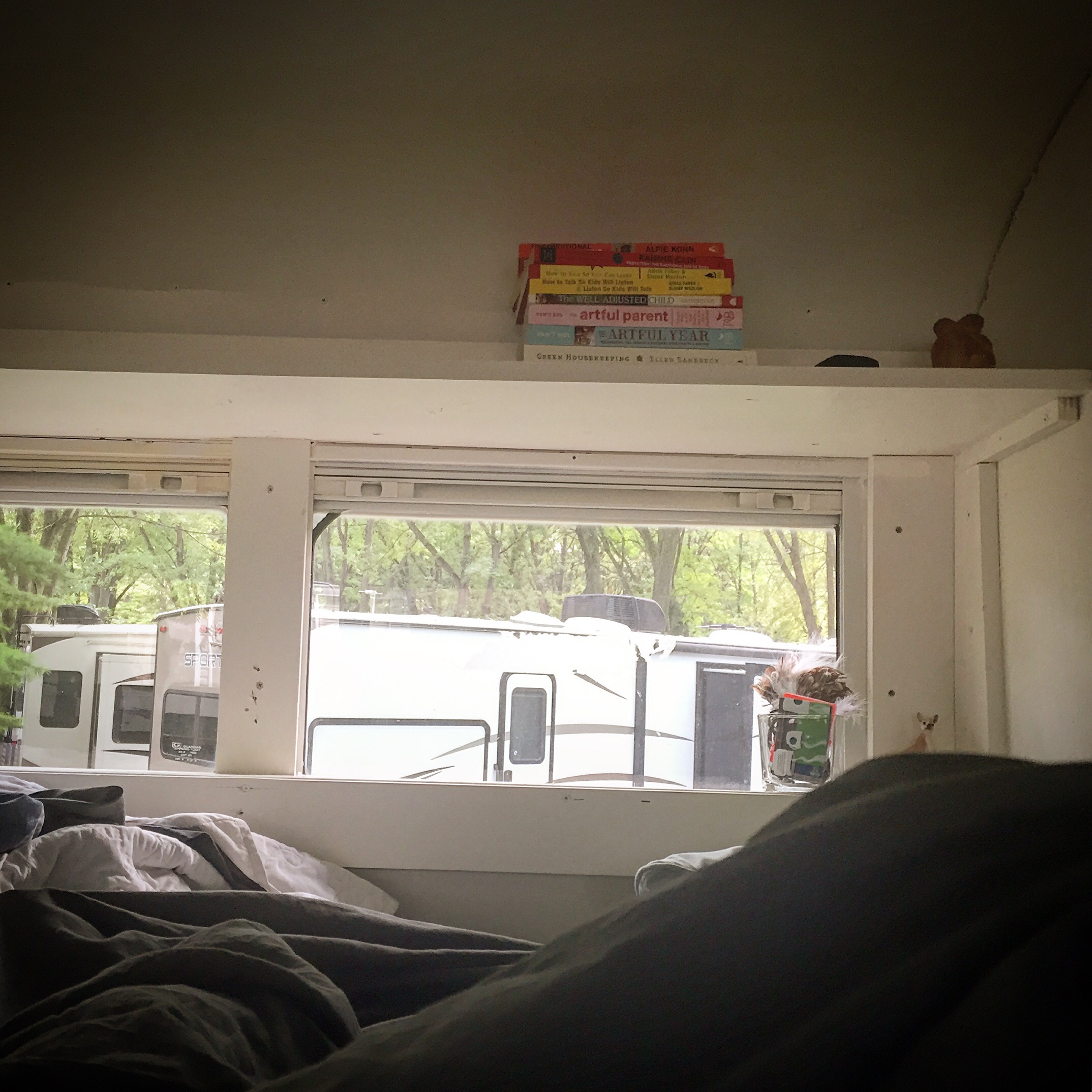 Current view from bed. I look forward to filling the shelf with all my books.
Till next time, friends, be kind to each other. We are all that we've got.